Prominent Clinton Foundation Donor Says He Got Nothing In Return, Is Named Donald Trump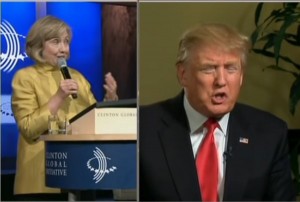 Former Secretary of State and current Democratic presidential nominee Hillary Clinton finds herself embroiled in a new controversy this week, as critics raise questions about the charitable Clinton Foundation, and the alleged granting of favors in exchange for donations. As it turns out, though, some of Hillary Clinton's best character witnesses are coming courtesy of rival Republican nominee Donald Trump.
On Tuesday night, Trump's campaign manager Kellyanne Conway repeatedly told CNN's Anderson Cooper about the "good work" that the foundation does, and it wasn't long ago that a prominent Clinton Foundation donor named Donald Trump was telling Fox News host Bill O'Reilly that the Clintons didn't deliver any sort of favor in return for his six-figure donation:
And I have to tell you this, in all fairness, I thought that money was being put to very good use. I assumed it was being put to whether it's Haiti or all of the different things that I heard about. I didn't know about the private airplane rides all over the place and if you look at the kind of expenses that they charge and the way they lived, I had no idea that, but I will say, that as far as the foundation's concerned, I assumed it was being put to good use, and so did everybody else that gave, and there were a lot of people that gave. They never really did anything for me, but I will say this, if I think they probably would have liked me, and, you know, whether you give here or give there, I got along with everybody, Bill.
This was back in January, before attacks against the Clinton Foundation's expenses were roundly debunked. Now, it appears the Trump campaign has come around on the issue of the money being put to good use, as well.
Have a tip we should know? tips@mediaite.com