Promising A Guest Who 'Everyone Will Want To Watch' Piers Morgan Books Larry King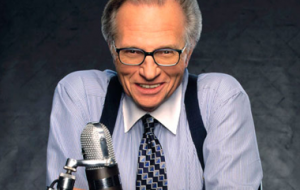 CNN's Piers Morgan, who never goes anywhere these days without access to Twitter, took to the web over the weekend to reveal a "secret guest" whose booking on Piers Morgan Tonight would "get EVERYONE watching…." and be a "must-watch." After several hours of excited tweeting to build suspense ("The secret guest has had an incredible life, on and off screen, and I suspect there will be a little tension in the air too."), Morgan revealed the secret: he's interviewing the guy CNN viewers cooled to ages ago: Larry King.

The King booking comes amid ratings that have yet to prove threatening to Fox News (and which have recently fallen behind MSNBC as well). A push to ramp up the buzz around guests (in recent days, Morgan has interviewed Donald Trump, Rod Stewart and Cheryl Burke) comes after a certain former CNN host–Larry King–said Morgan was "oversold" and said efforts to promote the show as surprising, different–even dangerous–had been overdone. "He's good. He's not that dangerous," King told the BBC's Radio 4.
What truly constitutes "dangerous" in the world of cable news? Is it presenting an unexpected guest rarely seen on television? Or is it the way one interviews a guest–in a surprising, must-watch fashion? Some criticized Morgan's opening night interview of Oprah Winfrey as "fawning" and even "timid," a word that led Morgan to tell Mediaite reading that in a New York Times story felt like "a shard of ice landing in my eyeball. One thing I can never be is timid."
Have a tip we should know? tips@mediaite.com