Prosecutor Slams Zimmerman In Closing Remarks: He 'Silenced Martin,' But Trayvon 'Speaks, Even In Death'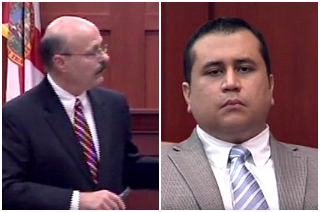 In an emphatic closing statement Thursday afternoon, lead prosecuting attorney Bernie de la Rionda argued that defendant George Zimmerman baselessly profiled Trayvon Martin in the moments leading up to shooting him, and that the mindset of the defendant prior to the confrontation was as important as details of the struggle itself.
"You can't just say, 'Okay, what happened in the actual interaction between them?'" de la Rionda said, after rebutting many of Zimmerman's statements as to the reasons for approaching Martin. "There are only two people who really know what happened out there. And the defendant made sure that other person couldn't come in to this courtroom and tell you what happened."
De la Rionda spent much of the first half of his closing statement cataloguing Zimmerman's suspicion of Martin, arguing that it stemmed from Zimmerman's overzealous law enforcement imagination.
The motive is essential to the prosecution, as it establishes ill will on the part of Zimmerman, necessary to the second degree murder charge, as opposed to the lesser charge of manslaughter. Prosecutors successfully moved to add the second charge this morning—though two other motions, to add third degree murder and child abuse, were not granted—but de la Rionda's focus on Zimmerman's antipathy toward Martin showed the state was still trying for the highest charge.
"He, the defendant, silenced Trayvon Martin, but I would submit to you even in silence his body provides evidence as to this defendants guilt," de la Rionda said. "From DNA, from lack of blood, other stuff, his body speaks to you, even in death, and it proves to you that this defendant is lying about what happened."
Watch the clip here, via CNN:
—
>> Follow Evan McMurry (@evanmcmurry) on Twitter
Have a tip we should know? tips@mediaite.com