Prosecutors Contradict Zimmerman's Story In ABC Interview, Claim He Lacked 'Courage To Take The Stand'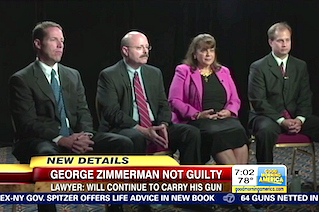 The prosecutors in the George Zimmerman case spoke to ABC News Monday morning, continuing to doubt Zimmerman's version of the shooting death of Trayvon Martin, and openly speculating about his reasons for not taking the stand.
"I prayed that he would have the courage to take the stand," lead prosecuting attorney Bernie de la Rionda said. "But as we all well know, he made the decision not to."

ABC's Matt Gutman asked if de la Rionda thought Zimmerman was "scared" to testify.
"The proof is in the pudding," de la Rionda said. "Did he take the stand?"
State attorney Angela Corey, who initially charged Zimmerman with second degree murder after the state of Florida took over the case from Sanford last spring, was not persuaded by Zimmerman's account of the incident.
"Nobody just gets a gun out and shoots, even trained police officers," Corey said. "When they're on the ground, with a suspect on top of them, they can't get their guns out that quickly."
"I think there was a struggle," prosecutor John Guy said. "At some point, Trayvon became aware of the gun, and was backing up, and George Zimmerman shot him."
Gutman asked about defense attorney Mark O'Mara's statement on Sunday that Zimmerman would have his gun returned and would have "even more reason now" to carry it on person.
"He better be careful," Guy warned. "It better be the right circumstances."
"The law allows an awful lot of people to carry guns," prosecutor Richard Mantei said. "That doesn't mean they should."
Watch the clip here, via ABC News:
—
>> Follow Evan McMurry (@evanmcmurry) on Twitter
Have a tip we should know? tips@mediaite.com