Fmr. Marine Thrown Out of Bill Clinton Rally for Accusing Hillary of Covering Up Benghazi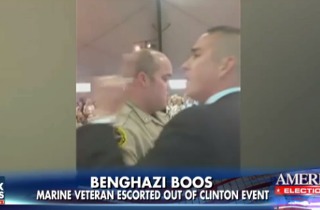 During his time on the campaign trail, Bill Clinton has dealt with the occasional protester against his wife. Yesterday, the former president faced off with another one when a rally attendee stood up and started interrupting him with questions about the Benghazi terror attacks.
Hillary Clinton's handling of the event has been one of the most recurring points critics have used against the former Secretary of State. As Mr. Clinton drummed up support for the South Carolina primary, a man stood up and started heckling over the attack and its aftermath.
American Military News reported that the man was a marine veteran who served as a drill instructor on Parris Island and served two tours of duty in Iraq.
"We had four lives in Benghazi that were killed," the man said, "and your wife tried to cover it up."
Clinton thanked the man for his service and tried offering a response, but the man talked over him as he continued to launch barbs.
"Would you let me answer?" Clinton asked. "You listen to me."

"Am I allowed to answer? I'm not your commander in chief anymore but if I were, I'd tell you to be more polite and sit down."

"I wouldn't listen!" the man shouted back.

"Do you have the courage to listen to my answer? Don't throw him out. Shut up and listen to my answer. I'll answer it."
The man was eventually led out by security staff, along with a protesting woman who shouted "Hillary lied over four coffins." As they were led out, Clinton expressed regret that their minds were "poisoned by lies," and that he couldn't give them his answer.
Watch above, via NBC.
[image via screengrab]
Have a tip we should know? tips@mediaite.com