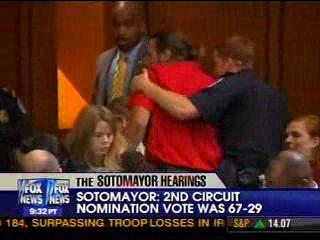 The confirmation hearing of a Supreme Court nominee allows senators an opportunity to put on an oratorical show for the viewers.  The Sonia Sotomayor hearing taking place today, and all week, is getting wall-to-wall coverage by cable news networks hanging on their every word, providing each senator free reign to bloviate for the viewing public.
But one thing sure to annoy the senators is any unforeseen interruption to their moments in the spotlight – loud and vocal protesters that take the camera away from the senators themselves.
The first came during Sen. Dianne Feinstein's opening remarks, when an anti-abortion activist started shouting before being removed by the police. Sen. Patrick Leahy was not pleased. "The police will remove that man!" he yelled, banging his gavel. "Let me make very clear there will be no outbursts in this committee."
Another protester started yelling during Sen. Dick Durbin's remarks.
As expected, these outbursts have been replayed several times on the cable news networks, desperate for some "news" to report. Another reason – the highly-anticipated remarks from Sen. Arlen Spector and Sen. Al Franken have yet to take place, with Franken's going last today. Obviously the Senate is waiting to bring out the big guns for the grand finale.
The hearing resumes at 2pmET, and the senators can once again resume their verbal posing for the cameras.
Here's an MSNBC discussion of the first outburst:
—–
• Follow Steve Krakauer on Twitter
Have a tip we should know? tips@mediaite.com