Pulitzer Prize Winning Journalist Outs Himself As Illegal Immigrant To ABC News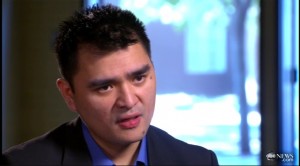 ABC News reports that Pulitzer Prize-winning journalist Jose Antonio Vargas is revealing his illegal immigration status in order to fight for the passage of the DREAM Act.
In an emotional interview with Dan Harris, Vargas, who was brought to the U.S. from the Philippines when he was 12, recounts learning about his illegal status while trying to apply for a driver's license as a teen:
I remember the very first instinct was, okay, that's it, get rid of the accent… Because I just thought to myself, you know, I couldn't give anybody any reason to ever doubt that I'm an American.
He was partially inspired to finally come out about his immigration status, he shares, after witnessing the work accomplished by students who marched from Miami to DC in an effort to convince Congress to pass the DREAM (Development, Relief and Education for Alien Minors) Act, a bill that would immigrants who came to the U.S. as children to become legal American citizens as long as they either attend college or serve in the military.
In addition, Vargas hopes to put a recognizable, trusted face to a large and complex issue:
I am one of many, many people. And we are not who you think we are. We don't just mow your lawns, and babysit your kids, and, you know, serve you tacos. We do that — we do a really good job doing that — but we do other things, and we are a part of this society.
The full interview airs his Thursday on World News with Diane Sawyer and Nightline, and Friday on Good Morning America. For now, you can watch this preview courtesy of ABC News:
In addition to discussing his immigration status with ABC News, Vargas has also launched Define American, a media campaign devoted to elevating the national discourse on immigration:
Through the power of storytelling and social media, the Define American website will spotlight immigrants who are American in all but papers, and the many American citizens, from principals to pastors, who have supported them, forced to fill in where the immigration system has failed. The site invites all Americans to participate in an honest dialogue about the ways the broken immigration system affects the character of our nation.
Furthermore, Vargas is highlighting his own experience in a New York Times Magazine essay entitled "Outlaw." You can read his piece online right over here.
Have a tip we should know? tips@mediaite.com