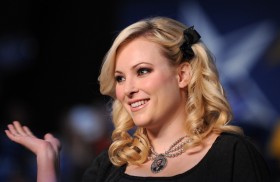 With the appointment of Judge Sonia Sotomayor to the Supreme Court a near-fait accompli, America turns its attention, today, to another important vacancy: The spot on the American Idol bench that Paula Abdul abdicated earlier this week via Twitter.
The New York Daily News ran a list of possible replacements yesterday. Some were serious (Judge Judy – a natural match for Simon Cowell), some were not (Lou Dobbs – doesn't believe Aiken v Studdard is settled law), but the most intriguing name on the list, for me, was Meghan McCain.
She would be a natural for the show, combining Paula's beauty and unpredictability with Simon Cowell's take-no-prisoners honesty.
I emailed Meghan to get her thoughts, and here's what she had to say about it:
Tommy Christopher: Is being an Idol judge something that would appeal to you? How do you think you'd stack up next to Paula Abdul?

Meghan McCain: I think that article is a joke!

TC: Maybe, but I would love to see you on Idol. I bet you would own Simon Cowell.

Meghan: Of course being an Idol judge would appeal to me, I think it would appeal to any person on the planet. I love Paula and really want her to come back, I don't think anyone could replace her!

TC: How would you deal with Simon?

Meghan: Everyone knows I'm feisty and I don't take smack talk, I would give it right back to him!

TC: Who was your favorite Idol contestant this year, and why?

Meghan: Adam Lambert was my favorite, I liked his voice and his attitude. His rendition of "Feeling Good" is my favorite. But I also liked Kris's country version of "heartless"…

TC: OK, last question. You've been critical of the Republicans for some of their messaging. Would you say their messaging has been "horrible," or "just a little pitchy, dawg?"

Meghan: Lol, a little pitchy dawg.
There's no question in my mind that Meg would make a great judge, and a great reason for me to watch American Idol again. Consider this her nomination. She should sail through the confirmation process.
Image by AFP PHOTO/Robyn BECK via Like A Whisper
Have a tip we should know? tips@mediaite.com