Putin Defends Anti-LGBT Laws: Russia Has 'Softer, Liberal' Approach to Gay Rights Than Much of U.S.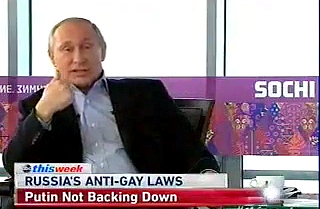 In the second segment of George Stephanopoulos' interview with Russian President Vladimir Putin, the ABC host pressed Putin on the controversy over Russia's heightened anti-LGBT laws, which have led to calls for a boycott of the Sochi Olympics. A more combative Putin argued that the laws were not repressive, and that the United States had no room in which to criticize on gay rights, given its own statutes.
"I'd like to ask my colleagues and friends that, as they try to criticize us, they would do well to set their own house in order first," Putin said. "I did say, after all—and this is public knowledge—that in some states in the U.S., homosexuality remains a felony…How are they in a position to criticize us for what is a much softer, liberal approach to these issues than in their own country?…There a lot of folks in the U.S. who share the view that the legislation in their state or their nation is appropriate, well-grounded and is in sync with the sentiment of the vast majority of the population."
RELATED: Putin Denies Corruption Charges, Downplays Tensions Over Snowden in Stephanopoulos Interview
Journalist Masha Gessen, author of a biography on Putin and an LGBT activist, characterized the laws as part of a far-reaching campaign to "enshrine second-class citizenry," and argued that the true oppression would begin after Sochi, when the world's attention had turned away.
"No concerns exist for people who intend to come as athletes or visitors to the Olympics," Putin claimed, adding that protests of the anti-LGBT laws would be allowed. "Acts of protest and acts of propaganda are somewhat different things. They are close. But if we were to look at them from the legal perspective, then that does not amount to propaganda of homosexuality or sexual abuse of children."
"Russia does not criminally prosecute people for being gay, unlike in over one-third of the world's nations," he continued. "70 of the world's nations consider homosexual behavior a crime. Seven out of the 70 use capital punishment for homosexuality. What does it mean? Does it mean we need to cancel any major international sports events in these countries? Probably not."
Watch the full clip below, via ABC News:
[Image via screengrab]
——
>> Follow Evan McMurry (@evanmcmurry) on Twitter
Have a tip we should know? tips@mediaite.com