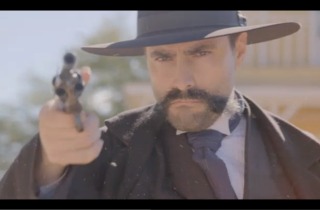 On Sunday, Fox News will debut its 10-week historical docu-series Legends & Lies: The Real West, which will explore 10 different famous characters from the so-called "Wild West" period of American history. Executive produced by Bill O'Reilly, the show's launch coincides with the release of the Fox primetime host's book of the same title.
The series will revisit the stories of the Old West's biggest names: Jesse James, Doc Holliday, Davy Crockett, Billy the Kid, among others. Mediaite spoke to Fox's VP of development and co-executive producer of the special, John Finley, and did a brief Q&A on what to expect from the network's foray into historical documentary series.
—
What made the network decide to revisit the Old West for this series?
Well, of course, there was lots of opportunity to capitalize on the success of Bill's history books — Killing Jesus, etc. But the historical aspect of it makes it a natural fit for our audience. They've enjoyed his books, and history in general is something we know our viewers gravitate towards.
We initially considered a bunch of themes, but settled on the Wild West. Because It's action-packed, the stories and characters are riveting, and we felt we could tell the stories in a different way, provide some context for people, and maybe viewers can learn some things they don't know about these characters.
You've produced a lot of the network's newsmagazine-style documentaries in the past, but this is different how?
This is definitely different from our classic news-piece documentaries. This is something you might see on History Channel, with actors and scripted reenactments. It feels like a Hollywood production, complete with stuntmen, horse trainers, and actors. It was a lot of fun to see them shoot the material in this Hollywood sort of way. It's definitely not a classical long-form news piece like we're used to.
With all historical documentaries, you always expect to hear a deep, distinctive voiceover. Who does the narration for this?
The entire series was narrated by the actor Dermot Mulroney.
But there are other voices besides his and the reenactment players, right?
Each episode has interviews with experts, historians, professors, and people who've researched the characters. Bill O'Reilly provides commentary as well. So the whole thing isn't just reenactments. We definitely want it to be more. [Trailer below:]
Who writes the script for the reenactments?
Warm Springs Production, based out of Montana. They've done a lot of TV network production. They hired writers for the staff, shot the scenes, and gave the project the full Hollywood treatment.
How long has this project been in the works?
Been in the works for about a year. Most of the shooting started last fall, in October, and went really into the new year. It's been a long process. We're really excited for how it turned out.
Any plans to do more historical documentary series like this?
We're considering this Legends & Lies series itself as a potential to have another season. The idea behind it would be to change time periods, maybe explore another period in American history. Some we've looked at include the mob era, World War II, and others.
Any interesting characters you learned about that you'd never heard of before?
Black Bart was this stagecoach robber in California. I hadn't known about him, but there are a lot of fascinating stories about him. But I also had my mind opened about people I already knew, like Doc Holliday. The average viewer is not an expert in Wild West history, so they will learn something new, and see things from a different perspective. Hopefully we can shed light on some of the myths about people like him.
We also cover the real inspiration behind the fictional Lone Ranger. I won't give too much away but there are elements of the fictional character taken from a very real person.
Legends & Lies premieres at 8 p.m. on Sunday, April 12.
— —
Have a tip we should know? tips@mediaite.com