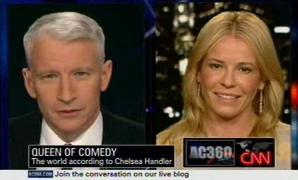 CNN was all about the comedians in prime time last night, with Larry King's George Lopez interview, but also with Anderson Cooper's "360 Big Interview" of Chelsea Handler (host of Chelsea Lately).
They talked Conan O'Brien, Heidi and Spencer and joked about Cooper's "quasi" journalistic qualities. But what can interviews like this tell about Cooper role?
The interview kicked off with the Conan to TBS news, which Handler called "a surprise." "The more people in the 11 o'clock timeslot the better," said Handler, joking about basic cable, "It doesn't get a lot worse than this, so just enjoy the road to the middle."
Cooper also showed his reality TV chops, discussing Bret Michaels and Rock Of Love:
Handler: Are you a fan?
Cooper: I must say I've watched a couple. I like it when he would hand out to the passes to the backstage, that was his sign that you'd stay on for another week. You'd stuck your tongue down his throat enough that you could actually be voted on the next week.
That was where the CNN embedded video ended (below), but Handler was back for a second segment as well, with a lightning round of even less newsy topics. When asked if she'd go hang out with Heidi and Spence from The Hills on a desert island for one million dollars, she declined, but Cooper wasn't sure for himself. "You can't do that," Handler told him. "No, you are as quasi-respected journalist, and you might want to keep it that way."
"I appreciate the quasi," said Cooper laughing. "You threw me that bone."
Look, this isn't about Cooper being a "quasi-respected journalist" – his work in Haiti and even the majority of last night's show prove he is very much a journalist. But this lighter fare during prime time gets juxtaposed with yesterday's quasi-upfront for CNN touting all the journalism taking place on the network, putting themselves in a "category of one." Still, it is this type of interview that continually raise questions about what exactly Cooper wants to do with his career at CNN, as the first of his live audience specials is filmed tonight.
He can do both – but joking about Speidi is a far cry from the more serious subject his program often focuses on.
Here's the interview from CNN below:
Have a tip we should know? tips@mediaite.com