Quota System: 'Counting,' Drawing The Line At 'Too Many White Men' Is The Secret To Chris Hayes' Show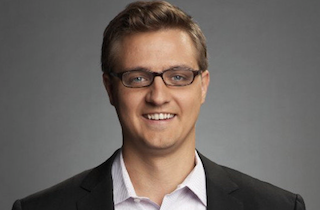 Shortly after the announcement about his move to MSNBC primetime, Chris Hayes touted a chart that displayed how his weekend show displayed more gender and ethnic diversity than others did. Asked about it in an interview with the Columbia Journalism Review, Hayes revealed that he and his staff were very deliberate in maintaining that diversity — literally "counting" and using quotas.
RELATED: CNN And MSNBC Going In Different Directions On Diversity
For reference, this was the chart, via Media Matters, that made Hayes proud: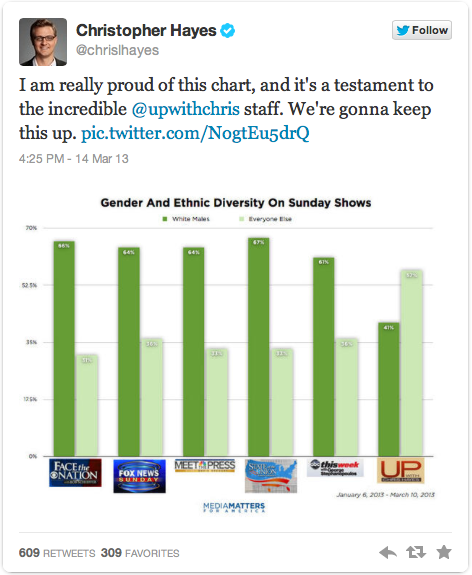 So how did he achieve it? "Hard quotas," the interview noted.
"We just would look at the board and say, 'We already have too many white men. We can't have more.' Really, that was it," Hayes says. "Always, constantly just counting. Monitoring the diversity of the guests along gender lines, and along race and ethnicity lines." Out of four panelists on every show, he and his booking producers ensured that at least two were women. "A general rule is if there are four people sitting at table, only two of them can be white men," he says. "Often it would be less than that."
Ah yes, "too many white men" — the criticism so often hurled at cable news. If they did lean too white and too male one week, Hayes said they'd be mindful of compensating for it the following week. But the diversity wasn't arbitrary, Hayes said, elaborating on how the staff tried to tie it in with the topics they covered:
"The editorial decisions, the content we decided to pursue, also dovetailed with that," he continues. "We had three Iraqis join us when we talked about the 10-year anniversary of the war. We did a full show about feminism. And so, part of it is that we weren't talking about the Ryan budget every week. Often we were discussing topics on which there was a natural affinity between people of backgrounds different than the standard one that is often presented on television."
Hayes admitted that his affirmative-action approach will be harder to maintain with a nightly show, but he's "a thousand percent" committed to keeping it up.
"I think it was a big part of the show's success," he asserted. "It wasn't just a kind of dutiful exercise in diversity. It created tangible editorial rewards."
Read the full interview here.
Have a tip we should know? tips@mediaite.com