Race-Obsessed MSNBC Panel Accuses Black GOP Senator Of Benefiting From Republican 'Affirmative Action'
MSNBC Panel Accuses Black GOP Senator Of Benefiting From GOP 'Affirmative Action'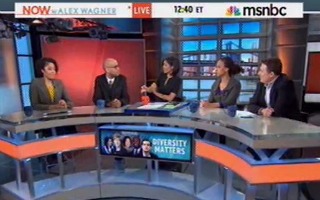 MSNBC's Now panelists took to the airwaves on Friday to celebrate the historic nature of the fact that the 113th Congress features a single African-American in the Senate, and that senator is a Republican… Just kidding. In fact, the panelists took that opportunity to highlight the continued problems that the Republican party faces with average minority voters, in spite of the increasing number of GOP minority officeholders. Some went so far as to attribute Sen. Tim Scott's (R-SC) career to Republican legislator to "affirmative action."

BuzzFeed editor Ben Smith said, in a segment on Scott and the Republican Party's problems with minority voters, that President George W. Bush and his political advisor, Karl Rove, were keenly aware of the GOP's lack of diversity and eager to address it. In the last decade, they urged local and state party leaders to do their best to steward the careers of promising minority Republican legislators to create a farm system of minority Republican lawmakers.
MSNBC host Melissa Harris-Perry, sensing an opportunity to make a salient political point by exposing perceived hypocrisy, went in for the kill. "This is what's brilliant," Harris-Perry exclaimed. "There is so much a powerful affirmative action of the most, sort of, base-level, quota kind that occurs in the GOP."
"There is no more explicit affirmative action than occurs in the Republican Party, that's true," Smith agreed.
Here is a thought experiment: replace MSNBC with Fox, Republican with Democratic Party, and Tim Scott with President Barack Obama. Boy, would you have the makings of a national scandal on your hands. One that may even provoke MSNBC host Al Sharpton to send a Rainbow Coalition of picketers demanding redress outside News Corp.'s Manhattan offices.
Host Alex Wagner proceeded to head back to the old well of material once provided by former Rep. Allen West (R-FL). She played a 17-month-old clip of West describing himself as "Harriet Tubman," leading African-Americans from the "plantation" of the Democratic Party.
Wagner stopped herself mid-sentence when she was presumably moved to suggest that this statement was so offensive that it called for violent satisfaction from some members of the Congressional Black Caucus. "Is the Republican Party trying to ameliorate its image with black voters?" Wagner asked, in connection with Scott's ascension to the Senate. She said that statements like those made by West would suggest that they are not.
Harris-Perry answered by stating the obvious — minority politicians in the Republican Party do not bring black voters. "They bring white voters," Harris-Perry noted accurately. She did not say this, however, with the awe and reverence that one may think someone particularly sensitive to racial discrimination by majority whites would regard such a historic development.
What is frustrating, because it is so often dismissed or ignored altogether, is the acknowledgement that supposedly intransigent, racially-stubborn, white, Southern, Republican voters sent Scott to Washington in the first place.
In fact, for those Democrats with a near-manic obsession with the legacy of racial discrimination in the United States, Scott's story is as remarkable as it is threatening.
Scott was elected in the Republican leaning 1st District of South Carolina — a district that includes the city of Charleston. That was the city was there "Secessionitis" was born, where the first votes were cast to create the Confederacy of the United States, and where the first shots of the Civil War rang out as cannons bombarded Ft. Sumter on April 12, 1861.
What's more, in the energetic Republican year of 2010, when voters who aligned with the GOP were chomping at the bit to cast their ballots, Scott defeated Paul Thurmond — son of governor, senator and presidential candidate Strom Thurmond — in the Republican primary. Defeated is actually the wrong word. Annihilated is probably more appropriate. Scott trounced Thurmond by 34 points, winning 68 percent of the primary vote.
Republicans in South Carolina, voters who are primarily white, went to the polls in 2010 to send Scott to Washington and Indian-American Gov. Nikki Haley to Columbia. It was Haley who tapped Scott to replace former Sen. Jim DeMint (R-SC). This would have been an unthinkable turn of events not 20 years ago.
All of this could, and probably should, be considered a rousing victory in the battle for racial equality across party lines. To consider it such, however, would trample the narrative that the Republican Party has a nagging and persistent race problem.
When white Republicans were not voting minority politicians into office, the party had a race problem. Now that black voters are not voting for Republicans, the party has a race problem. So long as this supposed condition remains beneficial to Democrats and the party's supporters, the GOP will always have a race problem.
Tim Scott's story is a triumph, particularly for those who are supposedly eager to see racial disparity truly become a thing of the past. If the 2012 election cycle has taught us one thing, it is that MSNBC hosts like Harris-Perry and Wagner are especially sensitive to racial disparity and are eager to see those issues addressed. Why then, when discussing the circumstances which have resulted in the only black U.S. Senator being a Republican, do they not sound very celebratory?
> >Follow Noah Rothman (@Noah_C_Rothman) on Twitter
Have a tip we should know? [email protected]