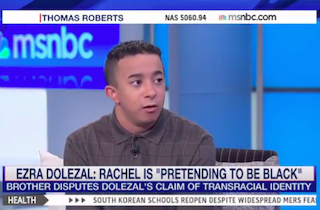 22-year-old Ezra Dolezal is one of four children adopted into the family of Lawrence and Ruthanne Dolezal. Unlike his sister, Rachel Dolezal, who has come under fire this week for identifying as black, Ezra actually is 25% African-American. Now, after comparing her actions to "blackface" in an interview with the Washington Post, he continued to speak out against what he sees as her deception on MSNBC.
"I view her as white, pretending to be black," Ezra said during an interview on Tuesday. "I never really viewed her as black, I viewed her as being really interested in African-American studies and trying to help with fixing racism and stuff, but I never really viewed her as actually black, I've always viewed her as white."
While Dolezal has claimed she felt herself to be black when she was a young as five years old, Ezra said he only became aware of the change in 2011. As for the photos that she claimed to have drawn of herself using a "brown crayon," Ezra said he doubted those exist.
In her interview with the Washington Post, Dolezal's mother said that the family's adoption of four children, two of whom are black, likely influenced her daughter's transformation. "The adoption of the children definitely fueled her interest as a teenager in being involved with people of color," Ruthanne Dolezal said. "We've always had friends of different ethnicities. It was a natural thing for her."
Watch video below, via MSNBC:
[Photo via screengrab]
— —
>> Follow Matt Wilstein (@TheMattWilstein) on Twitter
Have a tip we should know? tips@mediaite.com