Rachel Maddow Apologizes To Limbaugh For Using A Year Old Birther Clip Of Him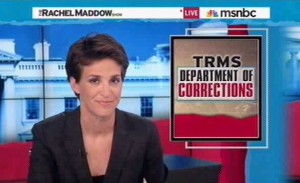 On Thursday, Rachel Maddow celebrated President Obama's 50th birthday by going through a list of people bringing up the birth certificate controversy even after it was put to rest when the long-form version was released earlier this year. She aired a clip of Rush Limbaugh ragging on Obama about the birther story, and it was just assumed that the audio was recent, given Obama's birthday this week and Limbaugh's reference to the commander-in-chief turning another year older. Well, turns out the clip was from 2010. Oops.
Maddow played the clip on Friday night and unequivocally stated that in the war of Maddow v. Limbaugh, "I was wrong! I lose!" She explained that the clip was from Limbaugh's program last year, and the only reason she thought it was from this week was because of a birther-heavy article on WorldNetDaily that linked to a mislabeled YouTube video. Without mincing any words, she admitted:
"It was wrong of us to not check WorldNetDaily's reporting, and I am very sorry."
According to Inside Cable News, conservative blogger Timothy Donovan ripped the audio from none other than Mediaite and posted it, assuming that the clip was from this year. His video was the one Maddow's research team happened upon, and when they saw he dated it 2011, they unfortunately assumed it was recent. Donovan explained the whole thing in a YouTube video posted Friday.
On her show, Maddow ran a montage of Limbaugh clips bashing Obama with some racially-tinged comments, and insisted her basic theory, that "the people who use the president's race against him for political purposes are sticking with the birthers," was correct. But ultimately, she apologized for misattributing the Limbaugh audio in trying to drive that point home.
Watch the video before, courtesy of MSNBC:
Have a tip we should know? tips@mediaite.com
Josh Feldman - Senior Editor