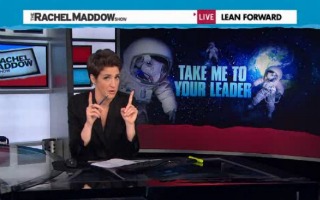 On her show Friday, MSNBC's Rachel Maddow asked who, exactly, is responsible for the Republican party's Senate losses this past week. As it turns out, there is, indeed, a specific person whose job it is to ensure Republicans win Senate seats, and that person is Sen. John Cornyn, who was punished for these losses by receiving a promotion and moving up as the party's "number 2" Republican in the Senate, right behind Mitch McConnell.
This as the party prepares to undertake a sweeping internal review to determine "what went wrong" in this election. Which, Maddow added, is a step forward from the current talking points surrounding what happened this week, with some in the GOP placing the blame on Hurricane Sandy or Democratic voter suppression or, as Fox News' Charles Krauthammer wrote in a Washington Post op-ed piece, Republican's issues with delicacy — not policy, but delicacy — when it comes to discusses issues of likely importance to women.
The struggle continues, said Maddow, to find a "leader" of the Republican party, particularly since former president George W. Bush did not leave an heir apparent, so to speak. It wouldn't be Cheney, it wasn't McCain, it certainly wasn't Palin, and it isn't Boehner. It had been Romney, but no longer. However, Maddow continued, it is worth taking a look at the people within the party whom Romney chose to embrace during his time as the party's state leader — people who included Sununu and Trump.
So who is next?
Watch, courtesy of MSNBC:
Have a tip we should know? tips@mediaite.com