Rachel Maddow Battles Christian Leader Ralph Reed Over Attempts To 'Demean' Gay People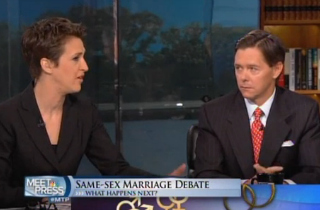 Appearing on NBC's Meet the Press this Sunday, MSNBC star Rachel Maddow battled with Faith and Freedom Coalition chief Ralph Reed over gay marriage, with the two clashing over everything from this week's SCOTUS rulings to whether gay marriage opponents are "bigots."
"Gay people exist," Maddow said to Reed, "there's nothing that we can do that make more or less of us exist. And you've been arguing for a generation that public policy ought to essentially demean gay people as a way of expressing disapproval. But you don't make any less of us exist. You just are arguing in favor of discrimination."
"I really can't let that go," Reed responded. "This suggestion that because somebody wants to affirm the institution of marriage that they're ipso facto intolerant, by that argument, Barack Obama was intolerant 14 months ago." He added that, by that logic, Sens. Pat Leahy and Joe Biden and President Bill Clinton were all "bigots" for supporting the Defense of Marriage Act.
"Nobody is calling them bigots," Maddow pushed back.
MSNBC contributor Michael Eric Dyson added that the same arguments against gay marriage have been made in favor of white supremacy over black people. "It will destroy civilization, it will undermine the American family, it will challenge our civic institutions," Dyson mimicked. "In the American culture," he asserted, "people can change their mind, they can grow, they can think."
Later on during the discussion, Reed offered that evangelicals will make a nationwide effort during the next midterms to "elect legislators who will pass a constitutional amendment to ratify that marriage should be between a man and a woman."
But Maddow pounced, noting that Reed's previous efforts to elect Mitt Romney and throw out Iowan and Minnesotan fights against gay marriage all lost in November 2012.
"That was an effort turn out the evangelical vote," Reed responded, but Maddow shot back: "And it was great and they lost. But when oral arguments were made in this case, there were nine states that recognized marriage equality. By the time of the ruling, there were 12 states, and five minutes later there were 13 states.
Watch the clips below, via NBC:
— —
>> Follow Andrew Kirell (@AndrewKirell) on Twitter
Have a tip we should know? tips@mediaite.com