Rachel Maddow Bids A Fond Farewell To The Least Productive Congress In U.S. History
Maddow Bids A Fond Farewell To The Least Productive Congress In U.S. History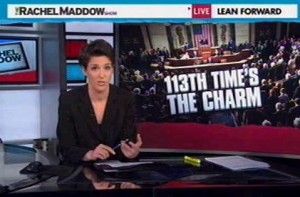 Rachel Maddow tonight took a brief trip down memory lane to remind viewers of how much (or little) got accomplished in the last two years in Congress since Republicans took control of the House and installed John Boehner as speaker. Bringing up the fact that the GOP-led House had to very publicly disband their own rules, Maddow all but breathed a sigh of relief at the prospect of moving on from a distinctively unproductive Congress.
RELATED: Maddow: Boehner's Speakership Has Devolved Into 'Chaos' And 'Outright Defiance Of His Leadership'
Maddow reminded viewers that Republicans promised a whole new ballgame when they took control of Congress two years ago this week, in particular a rule that whenever mandatory spending is increased, spending must be cut by an equal or greater amount elsewhere. This rule was summarily abandoned, Maddow noted, when the GOP-led House passed a bill trying to repeal Obamacare, despite it costing quite a bit of money.
Bookending the 112th Congress came the fact that Republicans once again violated one of their rules by not posting the fiscal cliff compromise bill online three days before the vote. This brought Maddow back to her long-running "John Boehner is bad at his job hypothesis." Boehner promised that things would be different at the start of the 113th Congress, but how much different?
Maddow brought up the fact that the 112th Congress is now considered the least productive in American history and was in power during its lowest recorded point of popularity ever. Maddow bade farewell to many of the departing Republicans and Democrats, while hailing the diversity of this next Congress, whose work has just begun.
Watch the video below, courtesy of MSNBC:
—–
Follow Josh Feldman on Twitter: @feldmaniac
Have a tip we should know? [email protected]
Josh Feldman - Senior Editor