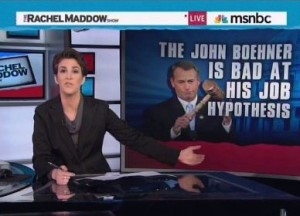 The failure of the Republican-led House to pass the fiscal cliff "Plan B" last night is earning Speaker John Boehner quite a bit of flack in the media. Rachel Maddow tonight concluded that her long-running hypothesis of Boehner being bad at his job has been proven beyond any reasonable doubt, but mostly chalked it up to issues within Congress and warring factions within the Republican party.
RELATED: Plan B, Or Not Plan B: Boehner Pulls Out
Maddow briefly recapped last night's events, in which much of the GOP "decided to leave Washington instead of participate in making policy," and how Boehner now appears to be directly appealing to God for a solution. Maddow found it amazing that Boehner would admit "God only knows" what's next in the fiscal cliff negotiations, since it amounted to a tacit admission from a top Republican leader that he has no idea what the next step is.
Maddow said that not only does Boehner have a lot of his own party against him, but he himself is not aware of how many actually oppose him, considering how confident he and Eric Cantor were ahead of time that they would easily have the votes for the bill. She concluded that no matter what you think of Boehner and his Democratic counterpart Nancy Pelosi, at least when Pelosi ran the House she "never once lost a vote" thanks to her own party.
"Whether or not you like what Nancy Pelosi stands for, as a Speaker of the House, Nancy Pelosi was good at her job. John Boehner is not good at his job."
Maddow explained this has been a long-running hypothesis throughout Boehner's reign in the House, citing big errors early on in his speakership. She reminded viewers of two members of Congress who watched the swearing-in ceremony on TV and had to redo them later on. While Boehner was vehemently denying a GOP "War on Women" via anti-abortion legislation, members of his own party kept introducing such legislation.
Maddow said that since Boehner's speakership began, the House has had a serious issue "just doing real basic run-of-the-mill governing stuff," including bills getting pulled at the last minute and not making sure they had enough in-party votes before opening legislation to a House vote. She criticized the Republican "pointlessness" of fighting the debt ceiling so vehemently last year that had serious real-world consequences for the country.
Maddow concluded without a doubt that Boehner is bad at his job, but had to wonder why. In fairness to Boehner, Maddow actually chalked it up to structural issues in Congress and within the Republican party, suspecting that "whoever is holding the job is doomed to failure."
Watch the video below, courtesy of MSNBC:
—–
Follow Josh Feldman on Twitter: @feldmaniac
Have a tip we should know? tips@mediaite.com
Josh Feldman - Senior Editor