Rachel Maddow Blasts PolitiFact: 'What Does It Take To Get A False Rating?'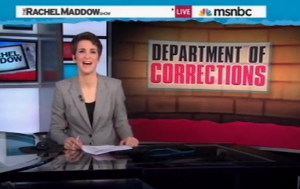 In February, Rachel Maddow declared PolitiFact effectively dead. On Thursday, Maddow (who's been feuding with the site for a while now) revisited that remark, and noted that PolitiFact does indeed live — but it's far from a good thing. Far from accurate fact-checking, Maddow said, the effort is essentially changing the meaning of the word "fact."
RELATED: http://www.mediaite.com/tv/rachel-maddow-declares-politifact-dead-over-bogus-lawrence-odonnell-gi-bill-ruling/
They "continue to supplant actual fact-checking to silly the whole concept of fact-checking as a meaningless brand," Maddow said, "and to change the meaning of the word 'fact' in the English language." PolitiFact, she said, "lives after death like a zombie eating our brains."
The story in question: "Anti-abortion groups says Obama White House screens unborn babies" — which said that visitors to the White House must register unborn babies as part of the guest count.
PolitiFact got the following statement about this story from a Secret Service spokesperson: "This refers to a pregnant woman providing information for a tour in the future that will include the new family member. So, for example, when a seven-month pregnant woman is providing information for a tour that is four months in the future, there is a 'place holder' for the new baby."
So the White House isn't counting a pregnant woman as two people, Maddow said. PolitiFact said this fact was "wildly false, she said, and then gave the rating "mostly false." She continued:
Mostly? You can get something, quote, wildly wrong, and still be only mostly wrong about it? What does it take to get a false rating on PolitiFact? False, as in you got it wrong.
[…]
Is it true or is it false? Oh, you found it false, so your rating is mostly something? PolitiFact, God bless you. You are not dead, but every time your trademarked Truth-O-Meter points at something, something dies in this country. Go away, PolitiFact.
Take a look, via MSNBC:

Have a tip we should know? tips@mediaite.com