Rachel Maddow Blasts Spoon-Fed Washington Post Mitt Romney/Dick Cheney Story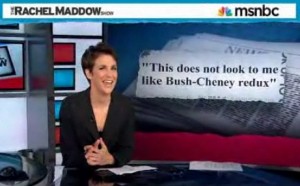 On Wednesday night's The Rachel Maddow Show, host and MSNBC tentpole Rachel Maddow spent twenty uninterrupted minutes of her show's opening on the Mitt Romney fundraiser that Dick Cheney is hosting today at his Wyoming home, and she devoted much of that time to slamming The Washington Post's "whitewash" of the event, which she said was designed to help the Romney campaign distance their candidate from the lingering toxicity of the Bush years.
The full segment was a typical Rachel Maddow storytelling tour de force, beginning with a positively Proustian (not in a good way) teleportation back to the bad old days of the Bush administration, which eased into the awkward minuet that the Romney campaign has danced with the ghosts of that era, before settling on the present day, wherein the Romney campaign seeks to have its Dick Cheney and eat it, too.
But mixed in with her epic exercise in awareness-raising, Maddow leveled some blistering criticism at The Washington Post's Philip Rucker (while expressing admiration for the paper as "a newspaper of national regard," it should be noted) for what she characterizes as a spoon-fed story on the Romney/Cheney nexus designed to convey the message "trust us, he (Romney) has nothing to do with Dick Cheney."
Rachel says WaPo "ought to be embarrassed" by the story, blasting them for using sources that the Romney campaign "fed to the Washington Post, and The Washington Post then dutifully wrote down what they said," before presenting a rundown of pull quotes from the paper's "incredible piece of non-journalism."
As much as I love Rachel Maddow, I thought her excoriation of the WaPo story had to be way harsh (I'm sure she was just being facetious when she said, in the last few seconds of the segment, that the Romney campaign's idea here was to "send something over to The Washington Post, hope they run it without changes, and hope fpr the best." Ouch), but while I'm reticent to question another reporter's news gathering techniques, she's fairly on target as to the piece's merits. It reads like a version of Dueling Banjos, in which the same guy plays the banjo and the guitar, and lets the guitar win. A sample measure:
Romney advisers characterized his relationship with Cheney as cordial, but no deeper than one that any elder statesman would be expected to have with his party's presumed presidential nominee. They speak infrequently, and advisers said there is little evidence of Cheney's influence, or that of Cheney's close associates, on Romney's policies or politics.
Contrast that with what Rucker describes as a not-so-distant relationship:
Romney's relationship with former president George H.W. Bush, however, is more extensive and personal. Romney delivered a major speech on Mormonism at Bush's presidential library four years ago and visited the former president this spring in Houston, while former first lady Barbara Bush recorded robo-calls for Romney during the primaries.
He delivered a speech at President Bush's library, and visited him once. That equals "extensive and personal," but "speaking infrequently" (once a month? once a year? Only after episodes of Real Housewives?) is non-deep and un-influential.
Maddow does a great job of deconstructing the contradictions in the piece, but even though Rucker doesn't necessarily draw the right conclusions from his sources, the piece does have significant value. Paragraphs like this, for example, demonstrate just how desperate Mitt Romney, and the Republicans, are to shed the Bush/Cheney legacy, even as they quack like it, and raise money from it:
Many Cheney allies who shaped policy in the Bush years — including Lewis I. "Scooter" Libby, Paul Wolfowitz, John C. Yoo and David Addington — have no roles in the Romney campaign. Nor do many senior foreign policy figures from that period, such as Condoleezza Rice, Donald H. Rumsfeld, Colin L. Powell, Robert M. Gates and Stephen J. Hadley — although Hadley endorsed Romney in April and Rice spoke at Romney's donor retreat last month.
Doesn't that sound a little bit like a defense attorney ticking off a list of serial killers that his client isn't like?
It's unfortunate that reporters sometimes seem to compromise their analysis in exchange for access, but a story like this does, at least, drop a trail of bread crumbs for someone like Rachel Maddow to follow.
Follow Tommy Christopher (@TommyXtopher) on Twitter.
Have a tip we should know? tips@mediaite.com