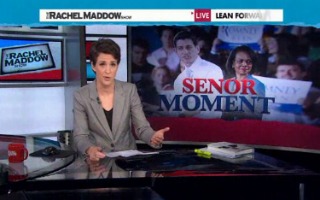 As we come up on the third and final presidential debate of this election year, Rachel Maddow took on GOP presidential candidate Mitt Romney for 1) seemingly not expressing an interest in foreign policy matters (as evidenced by a report in the New York Times indicating that Romney's advisers wonder whether he is even reading their briefings), and for 2) essentially taking on the Bush administration's foreign policy instead of coming up with a fresh, new alternative.
Maddow then mentioned Dan Senor — who has been a frequent guest on the network, most notably on Morning Joe — a top adviser to Paul Ryan who was previously a spokesman within the Bush administration. Senor is also, she explained, one of four people on the board of The Foreign Policy Initiative, which this week announced that now is the "time for a safe zone in Syria" brought about by American intervention.
She took on both campaigns' inability — or, more accurately, their lack of desire — to discuss foreign policy matters in-depth and transparently.
"Anybody who wants hard questions asked to President Obama on foreign policy," said Maddow, "it just hasn't happened yet. And anybody who is freaked out that Romney and Ryan are such empty vessels on the subject, that they would just let all the Bush/Cheney people back in to bring us another term of that foreign policy? Frankly, those questions have not been asked either. But by virtue of the final debate, we are finally going to get those questions asked. And how the candidates will answer those questions is totally unpredictable, because they have not answered to any of this stuff yet. And so Monday's debate is going to be very suspenseful. Anything could happen. Anything could happen, and that makes for great TV. And good politics.
Have a tip we should know? tips@mediaite.com