Rachel Maddow Calls Newt Gingrich's 'Deliberately Provocative' Bluff On Child Janitors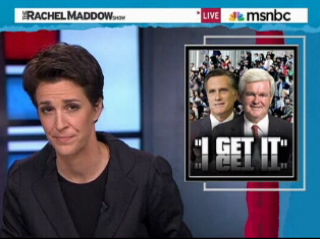 While the rise of Newt Gingrich has taken up most positive Republican headlines this week, it may appear that many have forgotten to vet the actual current frontrunner, Mitt Romney, though some on the left are taking up the mantle. On her program last night, Rachel Maddow noted an ad by MoveOn.org calling Romney "Mr. 1%" that echoed a campaign add from Massachusetts in the 1990s. While she did not dispute the accusation, she then turned to Gingrich's talk against poor children, which she considered egregious for its own sake.
RELATED: Fail: Media Favors Newt Gingrich 'Take A Bath' Byte Over Child Labor Quote 10 to 1
The anti-Romney ad in question was made by the Ted Kennedy campaign when he ran for Senate, and Maddow noted that it used many of the same concepts being used against Romney now. The attack is coming from a group like MoveOn.org, Maddow explained, because "the left really wants Newt Gingrich to defeat Romney," and some on the left are enthusiastic about the idea of a conservative publication like the New Hampshire Union Leader endorsing Gingrich. Their attacks on Romney, she explained, were not strange– "what's weird is that their criticism is that they don't like Mitt Romney because he's Mr. 1%, and so they're supporting Newt Gingrich," despite "the hilariously unsavory ways he made his money."
Even in the face of some conservatives warning that empathy with the Occupy Wall Street movement is important (Maddow cites Frank Luntz's advice to say, "I get it"), she found Gingrich's claim that children should be given jobs as school janitors not only out of touch, but deliberately so. "This should be seen as bait," she explained. "Why do you say something like that in politics? Do you think that's an actual policy you're thinking of spitting out and implementing… or is this just being provocative for political sake?"
RELATED: Not An Onion Spoof: Newt Gingrich's Education Plan Is To Fire Janitors And Replace Them With Kids
Maddow concluded that the tactic here was for Gingrich to appear "un-PC" and abrasive in an appealing way, but in a year where even Frnak Luntz was advising empathy, she saw it as a losing strategy.
The segment via MSNBC below:

Have a tip we should know? tips@mediaite.com