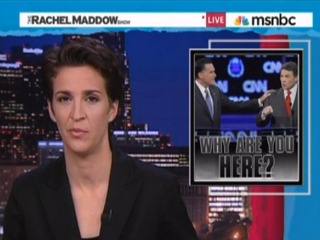 It's a given that cable news talking heads charged with guiding political discussion have to weigh in on presidential debates. And, since everyone out there in cablenewsland is talking about the same thing, it often falls on hosts and their writers to come up with a fresh, new angle through which to view these debates so they're not merely rehashing the same thing everyone else has been saying all throughout the day. Since we're in the habit of giving mad props where mad props are due, kudos are due to Rachel Maddow and her team for discussing the debate and its participants in a way that was, you know. Different!
One reason that the GOP debates have been rating so highly, Maddow ventured, is because they seem like different episodes of an ongoing — rather exciting, intrigue-filled — TV show with characters we know and recognize. She broke down each of these characters, one by one:
RELATED: Where Does Mitt Romney's 73 Second TKO Of Rick Perry Rank Among Mike Tyson's Quickest Fights?
Rick Santorum: The guy who talks about gays, abortion and family values.
Michele Bachmann: The lady who reminds us why we don't like Obama.
Herman Cain: In Maddow's words, Cain is "like the anti-intellectual, 'I don't have to explain anything,' folksy guy, where things rhyme sometimes, and it often involves food, and it all sounds very digestible even when it doesn't actually make sense."
Newt Gingrich: The guy who wants you to log on to his site, if you please.
Ron Paul: The quirky guy who makes all the other guys uncomfortable.
Rick Perry: The guy who talks about Mitt Romney.
Mitt Romney: The front-runner, and the guy who tries to seem "above it all."
Maddow felt that Romney "dropped character" last night to reveal his true motivation when he said he couldn't hire illegal immigrations because "I'm running for office." As for the candidates who don't have a snowball's chance in hell of winning the Republican vote, they're sticking around because debating and being in the news helps up their fame quotient, which will serve to help their careers down the road.
She also felt it was odd that Romney — again, cast as the clear front-runner here — had "hopped in bed" with Santorum (Yes, typing that felt icky. Curse you, Dan Savage.), one of the candidates on the "fringe," when it comes to the issue of contraception.
Take a look at the segment, via MSNBC:
Have a tip we should know? tips@mediaite.com