Rachel Maddow Celebrates 16th Anniversary Of Ethics Investigation On Newt Gingrich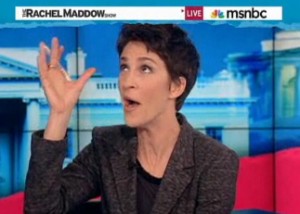 On Tuesday night, Rachel Maddow pointed out that December 6, 2011, is a landmark day for Newt Gingrich, as new polls showed him 15 points ahead of GOP challengers in both national and Iowa state polls.
"December 6, 2011 is turning out to be an awesome day for Newt Gingrich!" Maddow proclaimed.
She then took a trip down memory lane, and noted that Dec. 6, 1995 was also a landmark day for the then-Speaker:
"On this date 16 years ago, the House Committee on Ethics voted to initiate a preliminary inquiry into the allegations concerning Representative Newt Gingrich and the misuse of tax-exempt organizations. December sixth was the start of Newt Gingrich's collapse in political life in 1995."
Maddow then showed some clips from NBC Nightly News from 16 years ago, recounted the fines levied against Gingrich, and played interviews from 1995 with Republican Congressmen John Boehner, Peter King, and Mark Sanford. She pointed out that action against Gingrich was taken after a 395 to 28 vote.
"You don't get a vote of that margin against you by just alienating members of the other party," Maddow said. "You have to really…what's the opposite of charm?… members of your own party, as well."
RELATED: Rachel Maddow Calls Newt Gingrich's 'Deliberately Provocative' Bluff On Child Janitors
Still piling on Gingrich, Maddow noted that a Time poll from December 1995 said that 45% of Americans chose the adjective "scary" to describe him. Only 9% wanted him to be President at the time.
Watch the clip of Maddow's take on December 6th's significance for Newt Gingrich below, courtesy of MSNBC:
Have a tip we should know? tips@mediaite.com