Maddow: 'Chris Christie Is Embarrassing Himself' With His Brand Of 'I Will Be Rude'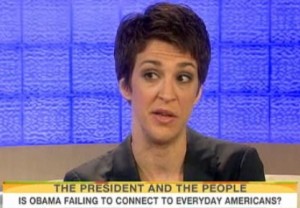 Rachel Maddow stopped by The Today Show this morning to offer her thoughts on the potential Republican candidates for President. Yet when she got a little too excited bashing New Jersey Governor Chris Christie, co-host Ann Curry laid down the law and politely reminded her to make her points "beyond argumentum ad hominem."
Maddow first suggested Sarah Palin could wait a long time before entering the race for President, since everyone else needs much more time to introduce themselves to the country than Palin. Also Maddow disputed the idea that Palin and Michele Bachmann are direct competitors, arguing we are "past the glass ceiling wherein people have to compete to be the female candidate." Yet strangely Maddow saved her harshest critique for Christie, someone who claims he is definitely not running for President.
Christie made comments that President Obama can't accomplish anything because he is preoccupied with being liked by everyone. Maddow began to argue in response that Christie's brand is "I am the guy that screams at my own constituents," when Curry interjected suggesting she focus less on personal attacks. Maddow responded:
"It's not an ad hominem argument, Chris Christie is auditioning for Vice President. Chris Christie would like to be taken seriously on the national stage. That's why he is embarrassing himself in his own state . . . and his brand is I will be rude and rudeness is actually what he's trying to sell as a form of political authenticity."
Whether such statements can be considered ad hominem attacks, or merely just political commentary, seems to depend on how one defines the latin term. Yet Maddow makes it clear, that not everyone likes Christie's blunt brand.
Watch the clip from NBC below:

Have a tip we should know? tips@mediaite.com