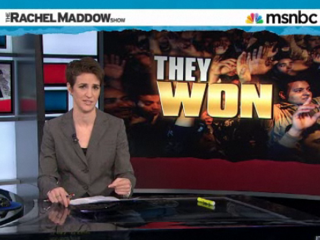 With the Egyptian revolt that is slowly but surely toppling president Hosni Mubarak nearing its end, some in the media are beginning to evaluate the big picture of what this hopefully near-complete historical event means, and how it ranks near similar occasions. Rachel Maddow attempted to describe the magnitude of the revolts as a "Brokaw moment," and took the opportunity to look back at the similarly dramatic falls of some of history's sturdiest regimes.
Maddow was unapologetically gleeful about the democratic potential of the Egypt, though kept some wiggle room for what's to come for the country. To put the moments of the past few weeks into context, she aired fascinating historical footage of Tom Brokaw delivering the news of the fall of the Berlin Wall, Ferdinand Marcos' flight from the Philippines, the Romanian revolution that overthrew Nikolae Ceausescu, and, in brief, a host of other revolutions from below (George W. Bush fans may note that absent from the clips of more recent celebrations of the end of dictatorships? The moving footage of Iraqis toppling the gigantic statue of Saddam Hussein in Baghdad in 2003).
In light of this change, Maddow attempted to curb her enthusiasm, calling the revolts "as worrying as they are inspiring," though modifying that as "on some days." She explained that the reason so many governments attempt to avoid change at all costs is because "stability is the devil you know and change is the devil you don't; Unstable is a synonym for dangerous." That said, she once again returned to the comparison between the Egyptian revolts and the fall of the Berlin Wall, and attempts to put that day in 1989 in context. Specifically, she argues that, as rosy as the fall of the Berlin Wall may seem in retrospect, "post-Soviet Russia is one of the most corrupt nations in the world, ranked worse than Haiti, ranked worse than Zimbabwe, ranked worse than Pakistan." While this may be true, and modern-day Russia certainly has its issues, the implication that Soviet Russia was somehow less corrupt or treated its people better than the current regime is, at very best, problematic.
Maddow's revolution recap via MSNBC below:

Have a tip we should know? [email protected]