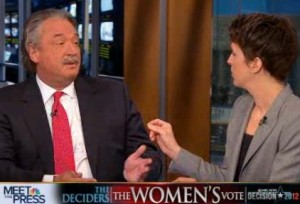 Rachel Maddow sat in on today's Meet the Press panel to talk about the importance of the women's vote in the 2012 election and the ongoing "War on Women," which is a totally real thing and not something being overplayed by both sides to hyperbolize serious economic and gender issues. When Maddow tried to point to disparities in pay between the genders, GOP strategist Alex Castellanos called her out on it in such a way that Maddow found his tone incredibly condescending.
RELATED: John Boehner Dismisses Women's Health Concerns Over Student Loan Bill As 'Nonsense'
David Gregory brought the panel to get together to talk about how important the women's vote will be for both parties in November. Hilary Rosen was one of the panelists, so naturally she had to first explain her comment about Ann Romney and how sorry she was about the phrasing of it before they could move on to the real discussion. Republican congresswoman Cathy McMorris Rodgers argued that the "War on Women" is naught more than a myth churned up by the Democrats in order to compete with the edge Republicans got in securing the women's vote during the 2010 midterm season.
Gregory turned to Maddow, acknowledging the condescension in male journalists and pundits asking what it is women really want, and asked her how the conversation should be framed if it has any hope of being reasonable or substantive. She stated quite clearly that it needs to be about policy issues like the gender difference in salary. Castellanos interrupted to claim that no such disparity exists, arguing that not only do men work more hours a week than women, but men tend to go for professions that pay slightly more than women. He also suggested that if it were true, businesses would just hire more women so they could pay lower salaries to their employees.
She accused Castellanos of operating on a slightly different "factual understanding of the world," and called out Congresswoman Rodgers for being a voice against the Fair Pay Act that President Obama fought for during his first year in office. Castellanos responded to Maddow by giving her some credit:
"I love how passionate you are. I wish you were as right about what you're saying as you are passionate about it. I really do."
Maddow told Castellanos that he was being "really condescending" to her, and that her passion was derived from just making a fact-based argument.
RELATED: Martin Bashir: 'If There Isn't A War On Women, Most of Us Must Be Ignorant'
When Congresswoman Rodgers argued that women do not like the health care bill, Maddow interrupted her to ask why Republican legislators in some states are targeting "rape victims" in crafting anti-abortion legislation. Rodgers said Maddow was just "picking and choosing" pieces of legislation to support her argument. Castellanos said Maddow was just distracting from the conversation about the general election, but Maddow said she was just trying to point to a trend of Republican legislation that she believes to be anti-woman all across the country.
Watch the video below, courtesy of NBC:
Have a tip we should know? [email protected]
Josh Feldman - Senior Editor