Rachel Maddow Debunks Claim That She Caused Florida To Cancel Lockup Contract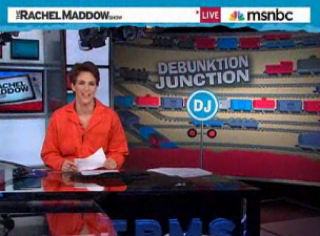 Fans of the prison reality television program Lockup got some sad news this week, as Florida governor Rick Scott canceled a contract with the series arguing that the prison officials signing it did not have the authority to do so. Somewhere along the line, rumors began to circulate that Scott did so in retaliation for MSNBC, and specifically Rachel Maddow, who has often criticized his government. Donning a prison uniform, Maddow tossed to the Friday night airing of Lockup with a special edition of "Debunktion Junction," disproving any claim that the issue was related to her.
Explaining the situation, Maddow noted that the government had explicitly said they canceled the contract with the program because "the Department of Corrections did not have the authority to grant this contract." However, claims arose that the real reason was that Maddow was a "persistent critic" of the administration," and Scott didn't want to help the network. "I prefer to think of it as 'principled pointer-outer,' but I understand," Maddow joked, then turning to the evidence: Lockup was reportedly not the only program to have been denied access, for one. But Maddow also reached out to the administration, whose spokesperson denied any such claim. "We weren't aware of any affiliation with Maddow," the spokesman responded in an email, adding that canceling the contract because of her would be "petty."
Then, "because the show must go on," Maddow tossed over to Lockup. She freely admitted she "watched it like this every week," referring to the outfit which, while probably not true, is a hilarious thing to envision.
The segment via MSNBC below:

Have a tip we should know? tips@mediaite.com