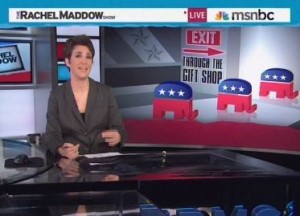 Rachel Maddow tonight shone a spotlight over what appear to be conservative "scams" in order to part supporters from their money, but instead of the money going to support conservative causes, they're going to the very high-profile individuals involved in these groups. Maddow said while such scams are nothing new, it is particularly striking that they are coming from such high-profile figures in the conservative political movement.
RELATED: Bill Kristol Slams Major Parts Of American Conservatism That Have Become 'Rackets'
Maddow highlighted a tidbit in the FEC filings of Fox News pundit Dick Morris' political organization showing the money labeled as "fundraising" went to the conservative website NewsMax, and because Morris' e-mail list is operated by NewsMax from his own website, Media Matters concluded in its study that a "significant portion" of Morris' Super PAC money went to "renting his own e-mail list."
Maddow concluded that quite a bit of the money given to Morris' Super PAC ended up going to Morris himself. She also mentioned the similarly scammy-seeming deal that came to light after Dick Armey cut his ties to the conservative group FreedomWorks, and the fact that a lot of the group's money went to a book written by one of its employees got Maddow to call the whole thing a "scam."
Maddow also brought up another push by a group affiliated with Mike Huckabee asking for money to defeat Obamacare, which incidentally said a $2500 "Chairman's Circle" donation would go to Huckabee to help him fight against health care. Maddow acknowledged the unfortunate inevitability that someone, somewhere will "try and turn impotent political rage and ignorance into personal financial gain," but found it surprising it was coming from a serious political player in the GOP.
"If you have any sort of conservative name for yourself, odds are pretty good you're going to end up in some kind of scam designed to part gullible conservatives from their wallets."
Watch the video below, courtesy of MSNBC
—–
Follow Josh Feldman on Twitter: @feldmaniac
Have a tip we should know? tips@mediaite.com
Josh Feldman - Senior Editor