Rachel Maddow Defends Glenn Beck After David Letterman Calls Beck A "Looney"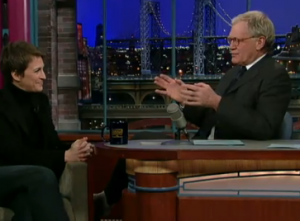 In a highly entertaining interview on David Letterman's Late Show last night, MSNBC host Rachel Maddow talked about what she sees as the stark differences between her network and Fox News.
Maddow argued that unlike MSNBC, Fox News is a "political operation" that's run with overtly political goals: "to elect candidates…to fundraise for causes…to have rallies against Democratic ideas and politicians."

For his part, Letterman kept it comedically short and to the point. He said Rush Limbaugh's a "fatty," and Glenn Beck's a "looney," and frequent Late Show guest Bill O'Reilly's a "blowhard."
(Letterman may find himself the subject of a chalkboard breakdown on Beck's show–and perhaps a sharply-worded takedown on Neil Cavuto's for bringing Limbaugh's size into the story.)
It's definitely worth noting, though, that not only did Maddow not take the bait to bash Beck personally–she revealed her admiration for him:
"Before Glenn Beck had his TV show, I used to listen to him every day on the radio. I think he's the most talented…he was the most talented radio personality of my entire generation… Now that he has his TV show, he mostly talks about himself, which isn't as much fun."
As for Fox News, Letterman said the network "voices a conservative viewpoint," and MSNBC "voices a liberal viewpoint." But which one gets the story right? Maddow said her team gets it more right than the other guys, while Fox "makes up stories out of whole cloth." The two discussed a recent series of stories dealing with Fox News memos critics have called instructions on how to spin political news stories.
Letterman accused liberals of being defensive, and "mild-mannered," but then took a swipe at Fox, saying "these guys have a very high threshold of embarrassment and never consider apologizing when they get things right and wrong."
Watch the interview here, from CBS:

Have a tip we should know? tips@mediaite.com