Rachel Maddow Delicately, Methodically Tears Senator McCain Apart Limb From Limb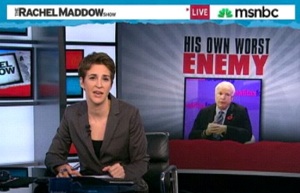 Last night Rachel Maddow showed no mercy in her attempt to destroy any shreds of credibility Senator John McCain might have remaining.  What sparked her fuse was McCain's 59th appearance on Meet the Press where he expressed his reluctance to repeal Don't Ask, Don't Tell until all the proper studies have been completed.

Oftentimes the method of using a politician's past interview footage to discredit their current position can be a mixed bag.  For instance, if in 2004 McCain said he would not vote to extend tax cuts for the wealthiest Americans, but today wants an extension of those cuts, does that make him a hypocrite?  Arguably no, since six years later a worsened economy might justify favoring a different tax policy.
However, McCain becomes much harder to defend when he contradicts himself on so many other issues, as Maddow documents he does with cap and trade, immigration reform, and most alarmingly, with Don't Ask, Don't Tell, as he randomly changes his mind between military leaders, Congress, and those currently serving, regarding which constituency should ultimately decide when the time is right for its repeal.
After Maddow's onslaught of McCain's video contradictions, she triumphantly concludes, "Senator John McCain's stances on legislation and important policy issues and principles are so fundamentally inconsistent as to render the phrase flip-flop meaningless.  And yet John McCain is still viewed as a Washington oracle, as a guy you've got to win over.  If you do fail to win him over though, don't worry, a new John McCain might come along any minute now and maybe you will have better luck with him."
Given that conservatives probably rank McCain as one of their least favorite Republicans and that liberals will never forgive him for thrusting Sarah Palin into the national spotlight, it seems the only group of people Maddow needs to convince that McCain is no longer a credible "oracle" are her colleagues in the media who will not stop interviewing him.  That means you David Gregory; please refrain from inviting McCain for a 60th appearance and help McCain avoid creating even more painful sound bites. 
Until then, don't worry too much for McCain, he will always have the support of his loyal Twitter pal Snooki who just yesterday thanked him for his birthday wishes.
Watch the clip below courtesy of MSNBC:
Have a tip we should know? tips@mediaite.com