Rachel Maddow: Did Palin Leave The Door Open To Run As A Third Party Candidate In 2012?
Maddow: Did Palin Leave The Door Open To Run As A Third Party Candidate?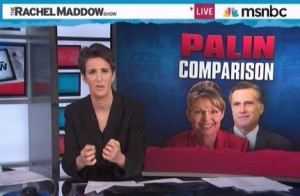 On her show Wednesday evening, MSNBC's Rachel Maddow shared with viewers an email she had received from a "Lloyd Marcus" at "The Campaign to Defeat Barack Obama" — a group aimed at keeping Mitt Romney from winning the GOP presidential nomination.
"This appears to mostly just be a money-making thing," Maddow explained. "If you attended a Tea Party protest in the last couple of years and had the misfortune of enthusiasm your name and your email address on something at that event, you have probably been getting spammed ever since by groups like this, trying to monetize Tea Party enthusiasm to turn it into fundraising."
Maddow then pointed to Palin's announcement today that she will not be seeking the GOP nomination, wondering where the Tea Party animosity was being channeled right now. It's the Republican and beltway media line, Maddow continued, that emphasizes how "beholden" GOP politicians are to the Tea Party movement.
"Because the Republican establishment and Republican elected officials are powerless before the power of the Tea Party, we must all pay lots of attention to the Tea Party and excuse the Republicans their radicalism," she added, summarizing the oft-repeated excuse. "How are we supposed to simultaneously believe that and believe that Mitt Romney is going to be the Republican party's nominee?"
She explained that the same people behind the "Stop Romney" campaign are behind the Tea Party Express, a particularly powerful arm of the movement that recently co-hosted a GOP debate with CNN.
"Why are we supposed to take the influence of these groups on the Republican party so seriously?" Maddow asked. "Why are we supposed to believe that the Tea Party is the controlling factor in Tea Party [Republican, we think she meant to say] politics now… except in the case of their multiple committed, energized campaigns to stop Mitt Romney?"
Maddow then floated an idea: Did Palin's statements today leave a door open for her to run as a third party, "Tea Party" candidate? Hmmm?
Watch the segment, from MSNBC:
Have a tip we should know? tips@mediaite.com