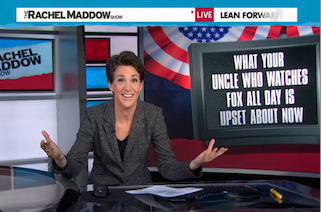 It's less than one week until the midterm elections and U.S. gas prices have fallen to a four-year low. As Rachel Maddow pointed out on her MSNBC show last night, this could potentially be bad for Republicans. But fortunately for them, she said, Fox News has found a way to spin low gas prices into a bad thing and blame President Barack Obama in the process.
As Maddow explained, when gas prices are high, the conventional wisdom is that the president and his party tend to do worse in elections and when prices are low, they do better. "Gas prices as a stand-in for political analysis is kind of like making stuff up about elections 101," she said. "It's what you learn on the first day of pundit class."
Over the course of Obama's presidency, Maddow said the conservative media has "bent over backwards" to blame Obama every time gas prices go up, proving her point with an extensive montage of Fox clips. If Obama gets the "full credit or blame" for gas prices, as Mitt Romney asserted during the 2012 election, then "the president's supposed to get credit for low gas prices now, right?" Maddow asked.
Instead, this is the message put forward by Fox Business Network this week: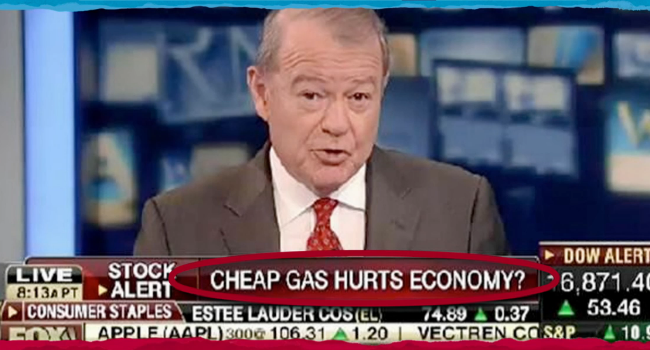 "Fox has now decided that actually low gas prices are a threat to America," Maddow declared. "Hey, we report, you decide," she added, echoing one of Fox's slogans.
Watch video below, via MSNBC:
UPDATE — 3:35 p.m. ET: For the sake of fairness, below is the full segment on gas prices from Tuesday's' edition of Varney & Co. on Fox Business. While the Chyron does suggest that gas prices going down could hurt the economy, Varney himself does conclude that lower gas prices are better for the economy.
[Photo via screengrab]
— —
>> Follow Matt Wilstein (@TheMattWilstein) on Twitter
Have a tip we should know? tips@mediaite.com