Rachel Maddow Explains New Book: 'We Have Gone To War So Frequently And Felt It So Much Less'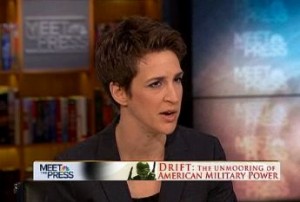 Rachel Maddow appeared on Meet the Press today to promote her new book Drift, arguing that the United States has entered a state of perpetual war. She heaped a lot of praise on U.S. troops as a very "impressive group of people," but added that many Americans do not tend to feel the effects of war on a regular basis, which she finds disconcerting because of the constant government focus on keeping war going.
RELATED: Rachel Maddow In Afghanistan: What Are We Asking Our Troops To Do Here?
David Gregory admitted he was surprised that Maddow was taking on such a weighty topic, especially since it's not something she covers often on her program. Maddow explained that she felt like this wasn't the kind of subject she could really bring up on her various programs, because it's not a "between-the-commercials idea."
"It's been bothering me for a very long time, this idea that we've made a series of changes over time, over the course of my lifetime, I think, that in all cases have made it easier, have made it a little friction, given us less friction, toward using war. Less political friction, less public… discomfort with it, in a way that we have gone to war so frequently and felt it so much less. It bothers me emotionally, and so I wanted to treat it in a long-form way so I could really lay out the case."
Gregory highlighted a section of the book where Maddow says that roughly half of the American people have not felt any effects of the nation's involvement in two separate wars as one of the more truly remarkable revelations. Gregory made particular note of that in spite of Maddow's progressive views, she was able to write the book in a very bipartisan manner. She said that all presidential administrations following Vietnam have been part of creating this mindset in their own particular way.
RELATED: Fox's Roger Ailes Writes Blurb For Rachel Maddow Book: 'A Book Worth Reading'
Maddow acknowledged that the United States occasionally does need to go to war, but she thought stockpiling hundreds and hundreds of nuclear weapons just in case might be a bit too premature and extreme. She revealed that many of the fights Congress has with the military is over programs the military doesn't even want.
Watch the video below, courtesy of NBC:
Have a tip we should know? tips@mediaite.com
Josh Feldman - Senior Editor