Rachel Maddow Finds The Missing Link Between Tim Pawlenty And Rick Perry: Vin Diesel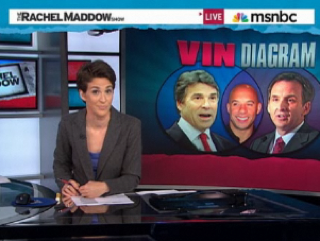 Rick Perry, Texas governor, aggressive frontrunner in the 2012 Republican race, came across as surprisingly tame during this latest round of presidential debates– this despite near-simultaneously releasing a blockbuster movie ad that makes Perry look more like action star than presidential material. On last night's Rachel Maddow gave a full review of his debate performance, noting that the newfound timidity isn't all that surprisingly when one realizes that the ad was created by the same man responsible for a similar endeavor by the otherwise mild-mannered Tim Pawlenty.
Perry's bizarre, tired-sounding word salad at Thursday's debate gave Maddow plenty to chuckle about, particularly his attack on Mitt Romney that began with an attempt to explain the candidate's flip-flopping and left even Romney a bit confused, at best. So contrast that candidate, Maddow, proposes, with the Rick Perry that is America's last hope from an alien invasion in a Michael Bay film, or something– it fits the attitude Perry has exhibited otherwise in public appearances, and Maddow makes the necessary demanded comparison to President George W. Bush— but all that misses the point of the source of the add. The one thing that Pawlenty and Perry have in common, Maddow argues, is the "filmmaker who tries to make Republican candidates look more Vin Diesel-y." To that end, she continued, "Rick Perry's new campaign strategy is to run as America's action star candidate who can save America from the alien that is Obama."
Maddow concluded with a short, yet brutal, assessment of what the "Vin Diesel" effect meant for the Perry campaign: he was no interchangeable with Tim Pawlenty.
The segment via MSNBC below:

Have a tip we should know? [email protected]