Rachel Maddow: GOP Getting Rid Of Centrists, But Dems Aren't Purging Themselves Of Pro-Gun Candidates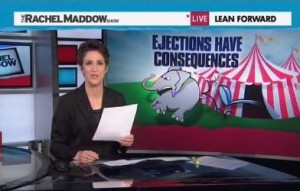 Rachel Maddow tonight observed an interesting difference between the Republicans and Democrats. She said that while the GOP is trying to purge its ranks of moderates, Democrats are not doing the same thing overall with pro-gun members of its ranks. There was one Democrat who lost a primary due to her pro-gun stance, but Maddow argued that was more about rejecting the notion that the NRA speaks for gun owners or has their best interests in mind, and they're using pro-gun Democrats to get that point across.
RELATED: New Poll Indicates NRA Endorsement Much More Toxic Than Helpful To Candidates
Maddow explained how Rove keeps blaming the bad candidates for election losses and not backing the right horse in the race. However, she said the Republican party by and large believes that aside from a few "lousy candidates," they did absolutely nothing wrong in the 2012 election. She cited Rove et al. piling on Iowa congressman Steve King in anticipation of a possible Senate run, but with Latham withdrawing from the race, it looks like King is the only viable option with the GOP, though polls show he could lose the overall election.
But in spite of efforts like Rove's, Maddow said the GOP isn't even close to being done with purging the party with moderates. A Republican candidate got criticized and may get primaried just because he traveled on Air Force One, leading Maddow to say the party is getting rid of "all trace of centrism." Contrast that with what at first glance looks like the Democratic party trying to purge its ranks of pro-gun members.
Maddow cited the Illinois House race in which NRA-backed Democrat Debbie Halvorson, considered an early favorite, ended up losing the primary after a well-funded campaign to make her the big, pro-gun candidate. Maddow acknowledged that a purge of anyone who isn't completely progressive is rare within the Democratic party, but now they appear to have found something worth purging from the party.
"If liberals and progressives are going to start looking at Democrats and say, 'Not enough,' what's it going to look like?"
Maddow cited a few instances of pro-gun Democrats to make it clear that rather than trying to purge the party of every NRA-backed member in their ranks, they are "counting on them" to stand with the party on gun control. She concluded that the reason Halvorson lost badly wasn't for being pro-gun, but for making herself such a big ally of the NRA, and that the Democrats are trying to "break the link" between the NRA and gun owners to show how disparate the goals of both are.
Watch the video below, courtesy of MSNBC:

—–
Follow Josh Feldman on Twitter: @feldmaniac
Have a tip we should know? tips@mediaite.com
Josh Feldman - Senior Editor