Rachel Maddow: Herman Cain Is Living In A Moral 'Glass House' With Multiple Scandals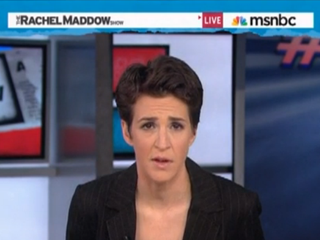 Rachel Maddow is not particularly convinced that a new sex scandal allegation about Herman Cain is news. In fact, if it survives into tomorrow's news cycle, she argued tonight, it will be because another more interesting story hasn't come along. But she covered the news anyway, not because of the scandal itself, but because when "public figures choose to build their political careers on criticizing other people's private lives and proclaiming the superiority of their own private life," they create a "glass house problem."
RELATED: Meet Ginger White, The Latest Problem For Herman Cain
Maddow ran down the allegations by Ginger White that she had engaged in an affair with Cain for thirteen years, then reading the statement from Cain's attorney that the story was not one the public should have an interest in. "To be fair, I think the reason this latest allegation about Mr. Cain is news is not because this allegation is that he's done something illegally," she argued, or that "it's anybody's business what any two adults do inside or outside the bounds of their own marriage." The problem with Cain and candidates like him, she continued, was that they were "public figures choose to build their political careers on criticizing other people's private lives and proclaiming the superiority of their own private life," as she proved by finding comments by Cain that he would protect the "sanctity of marriage" politically.
RELATED: Ginger White Claims To Have Engaged In A 13 Year Long Affair With Herman Cain
That said, Maddow concluded that she thought the affair "would be over quickly" politically, unless another story that was more interesting didn't take the airwaves. "Sex Scandal Allegation Seven– or Sex Scandal Allegation Eight, depending on how you count– just doesn't have the same marginal impact of Sex Scandal Allegation One, or Two, or Three." She added that even without the sex scandals, Cain "looks like a candidate who has peaked, making room for the new frontrunner, Newt Gingrich.
The segment via MSNBC below:

Have a tip we should know? tips@mediaite.com