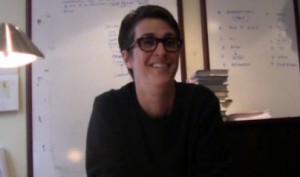 Just prior to going on the air and beating every Fox News program in the 25-54 demographic Tuesday night (and therefore, every cable news show, period), The Rachel Maddow Show host Rachel Maddow sat down with me for an exclusive interview, part one of which you can see here. In part two, Rachel talks about the presidential campaigns, and the varying degrees to which they're ignoring the war in Afghanistan, plus she weighs in on Fox News, reveals her favorite conservative media figure, and takes some ribbing over her favorite football team.
One of the distinguishing features of The Rachel Maddow Show is the depth with which the show tackles the stories and policies behind the politics, so it's no surprise that when I ask Rachel what advice she'd give to President Obama's reelection campaign, she begs off somewhat. "I'm a bad predictor, and a bad giver of advice," she says. "What I want for the country is I want there to be a debate about Afghanistan, and the Republican campaign for the presidency is not willing, or maybe able, to engage on that."
She adds that "it really makes me regret the disappearance of Jon Huntsman, who I think is a very credible and interesting figure in Republican politics, although Republicans apparently don't think so. He brought the issue of Afghanistan into the campaign in a way that, for a time, had Mitt Romney talking about bringing all the troops home!"
Rachel did, eventually, offer some advice for the campaigns. "In terms of winning the election," she said, "my advice to Romney might be to talk about Afghanistan. I actually think that I could run a better Republican campaign for president, as Rachel Maddow."
On what Fox News does well, Rachel offered that "what's interesting and admirable about Fox News at the executive level is the way that they've stuck with their talent. You look at how little they have changed over the years…You look at how long they've had, not only the same talent, but the same talent in the same hours, the long contracts…"
"That commitment to 'We picked the right people, we're sticking with them,' even when the politics makes some of it awkward with some of their less ideological hosts-I don't see Greta Van Susteren or Shepard Smith as being liberals, by any means, but I don't see them as being ideologically matched with the rest of the lineup, in a way that is uncomfortable for them in some ways, at a corporate level, but they have been remarkably cogent and consistent in their programming."
What's ironic is that Rachel's surging ratings, and those of the network, may provide the first real test of the perennially dominant Fox's commitment to that talent.
We also talked about the overlooked fact that MSNBC runs a significant amount of conservative programming every day, Rachel's favorite MSNBC colleague (she wouldn't pick), and her favorite conservative media figure (you'll have to watch to find out). Here's the second part of our exclusive interview:
This is an opinion piece. The views expressed in this article are those of just the author.