Rachel Maddow Interview Stars Tackled Wisconsin Democratic Legislator and Wisconsin Palm Tree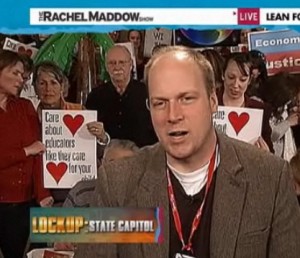 Wisconsin Gov. Scott Walker's public relations battle has gone from bad to worse, as poll after poll shows overwhelming support for the collective bargaining rights he is trying to strip from public employee unions (or at least the ones that didn't endorse his candidacy), and Walker has resorted to restricting access to the statehouse. That decision resulted in some really bad optics Thursday night, as police were caught on video tackling a man who turned out to be state Rep. Nick Milroy (D-WI). As Rachel Maddow interviewed Milroy Thursday night, I noticed an awesome co-star in the background: a genuine Wisconsin Palm Tree.

While Gov. Walker holds almost all of the cards in his legislative battle to strip public unions of most collective bargaining rights, his public image is taking hits that would make every womp rat on Tatooine wince. First, he was the victim of a prank call in which he jawed with a fake David Koch for so long, the guy eventually had to blow him off. Hell, even I'm too important to be kept on the phone for twenty effing minutes. While Walker said very little that was incriminating (beyond saying "we thought about" bringing in some troublemakers), the episode uncomfortably underscored the influence of donors like the Koch Brothers.
Even as the Wisconsin GOP released a video attacking the protesters' signs, and Fox News reporters were repeatedly harassed by the protesters, public support for the unions continued to grow. Along the way, a minor controversy erupted over The O'Reilly Factor's use of footage from a California protest during a report on the Wisconsin demonstrations. While some believe there was sufficient context to justify the use of the footage, others (myself included) found it to be misleading, at best. Either way, the kerfuffle resulted in the birth of a new species, the Wisconsin Palm Tree.
Then, there was the incident in which Democratic Assemblyman Nick Milroy was tackled by police as he tried to get some clothes from his office:
Milroy later told reporters, ""I was agressive in attempting to enter the building,…Law enforcement was agressive in trying to keep me out," but the video itself is just plain bad optics for Walker, who's already under fire for restricting access to the statehouse. Friday night, Rachel Maddow interviewed Milroy about the incident, and among the sea of Milroy supporters in the background was a bona fide Wisconsin Palm Tree:
As it turns out, the protesters in Wisconsin have been toting around inflatable palm trees for several days now.
Maddow seems hopeful that the blistering array of external factors pushing back against Walker will finally result in the Governor backing down, but in the end, it doesn't matter how many polls show support for the unions, how many protesters show up, or how many inflatable palm trees ring the capitol. If Walker wants to get this done, eventually, he will, and it's not as though backing down now will erase the hits he has already taken.
While the size, strength, and endurance of these protests has been surprising, and while they represent some of the freedoms that we hold most dear, the real lesson hear ought to be that the time to have shown up was in November.
Have a tip we should know? tips@mediaite.com