Rachel Maddow Interviews Dueling Fife and Drum Duo Over Tea Party Disagreement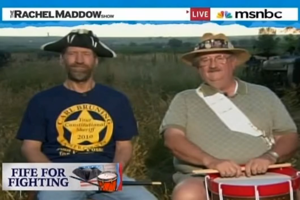 If you were flipping channels last night, you may have been left wondering why last night's Rachel Maddow Show had the soundtrack of a Ken Burns documentary. To highlight the greater social damage political differences can have in communities, Rachel Maddow welcomed to the show John Weins and Mel Hilgenberg, formerly known as the Liberty Leaders: a pro-Constitution fife and drum band.
Weins (the fife player) and Hilgenberg (the drummer) met at a Ron Paul rally in 2008 and, through their shared love of liberty, the Constitution, and Civil War music, created the Liberty Leaders. After almost two years together, however, they've called it quits over a local sheriff election. Weins is supporting Constitution Party candidate Carl Bruning, and Hingenberg a candidate named Justin Smith (and also "clear the bench, sweep the boards, dump the Dems, bust the bureaucracy Republican renaissance and Tea for 2010"), leaving them to march on opposite bands and, as Weins put it, "never the twain shall meet."
To explain what was, despite being extremely enjoyable, an almost indefensibly random segment, Maddow explained that she perceived the intra-party differences as an example of greater rifts among both the right and left, and the debate over how much compromise is too much:
"The reason that I wanted to talk to you tonight is A. because I think fife and drum bands are really cool and B. I just wonder if there's a bigger story to tell here about whether or not Tea Party politics and the idea that there are irreconcilable differences is a microcosm, whether what's going on between you two guys is what's going on with the movement in general."
As a thanks for their agreeing to appear on the show, Maddow offered to pay for a "reconciliation round" of beer when they went to the bar after the show. After a brief reconciliation performance, she upped her gift to two rounds.
Video below:

Have a tip we should know? tips@mediaite.com