Rachel Maddow Interviews Alaska Senate Candidate Joe Miller – While Walking To A Car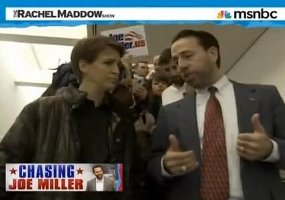 Rachel Maddow was excited, and she wanted all of us to know about it. She finally landed an interview with Alaska Senate candidate Joe Miller, the guy behind lines like this and ads like this. This was going to be good. She certainly thought so: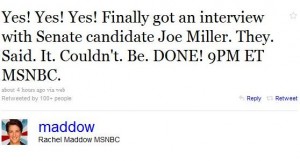 She teased the interview for her entire program (taped in Alaska), and then, at the end, finally showed it. And it was…well, pretty uneventful. She also called it "very strange," since Maddow and Miller walked (and at one point, rode down an escalator) the entire time she peppered him with questions, with Miller eventually reaching his SUV and riding off with a thumbs up.
The interview itself was more mundane than the setting, with Maddow noting how important social issues were to supporters of Miller she talked with and quickly turning to gay rights issues. Miller was evasive on whether he thinks homosexuality is a choice, saying he's "not gonna intrude upon an individual's decision as to what he or she does," as well as that it's healthy to have "different approaches to different values," and that gay rights should ultimately be a state issue – despite, as he admitted, his support for the Defense of Marriage Act. Then, Miller got into the SUV in the middle of a question about the 17th Amendment…and that was it.
Certainly, there was nothing nearly as contentious as Maddow's bang-your-head-against-a-wall back-and-forth with Oregon's Art Robinson (a welcome sight)…but there wasn't too much material here, period – a fact Maddow seemed to acknowledge afterward, saying, "I did my best." Video of the segment below.
Have a tip we should know? tips@mediaite.com