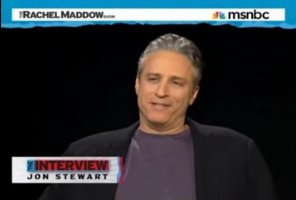 Right after Bill O'Reilly got a former president on his program, Rachel Maddow had a big guest of her own – Jon Stewart. Stewart was a game guest despite clearly not feeling too well, and explained his thoughts on the Rally to Restore Sanity, as well as why he feels the cable news networks are missing the point.
Stewart's major point was that he thinks the correct fight to pay attention to in society is "corruption vs. not corruption" rather than right vs. left, and that cable news should do more than "amplify that one aspect of the battle." A main example he cited was the saga of Juan Williams, and how it perfectly exemplified "the only fight that [cable news seems] to feel matters."
And while Stewart admitted there's a "special place in our hearts for Fox" at The Daily Show, he also clearly has some admiration for what they've achieved, marveling at how they "delegitimized the idea of editorial authority" while having boatloads of it, and even allowed that "they are ideological, but I don't know that they're partisan."
Stewart also said the 24-hour news cycle is built for things like 9/11 and the O.J. Simpson trial, not normal everyday occurrences, so generally it just feels like overkill (ex. Stewart wondered if cable news networks could possibly give the moon landing more coverage than they gave Balloon Boy) – though he admitted he "watch[es] way too much of it." Still, he said he "feels more of a kinship to Jerry Seinfeld" than news personalities – which makes sense, since after all, at the heart of it, he's a comedian.
Stewart and Maddow disagreed on whether or not they're doing essentially the same thing. Maddow thinks they are, but Stewart disagreed: "You're on the playing field, and I'm in the stands yelling things…there is no honor in what I do, but I do it as honorably as I can." But despite the disagreements, there's a lot of mutual respect there – Stewart had some kind words for Maddow at the end of their discussion, including saying she's "like ginger root" in that he didn't throw up around her, despite his stomach flu.
Video of the interview below, in five parts. Part 1:

Part 2:

Part 3:
Part 4:

Part 5:

Have a tip we should know? tips@mediaite.com