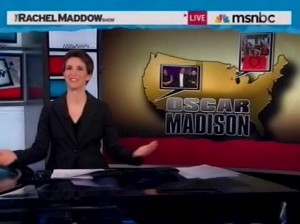 As I watched last night's Oscar Awards telecast, I was on the lookout for any politically-themed acceptance speeches, so I perked up a little bit when I heard Inception sound-mixing Oscar winner Gary Rizzo thank his "union" crew, thinking the reference might portend a deluge of support from the rest of the Oscaratti™. Alas, it never really materialized, but that didn't stop MSNBC's Rachel Maddow from giving Hollywood a not-so-well-deserved pat on the back Monday night.
As Maddow points out, there was one other show of solidarity, again from an Inception winner. However, neither cinematographer Wally Pfister nor Rizzo explicitly mentioned the protests in Wisconsin during their acceptance speeches (Pfister did so in a post-win interview). Fight the power? More like "Barely tweak the power hard enough to stiffen its nipples."
When you think about it, what Pfister and Rizzo did should have been unremarkable (in any Oscar year), as winners routinely thank everyone from the caterers, to the key grips, even their effing publicists, for f***'s sake, but they almost never thank the unions to which about 99% of them belong. If every one of last night's Oscar winners had thanked a union, no jury could have convicted them of politicization.
The fact that only two of them bothered to do so is a credit to the film on which they worked (a film, by the way, that was criminally overlooked in the Best Director category, and could eat two of The King's Speech for breakfast), and a shame for all of the rest.
Have a tip we should know? tips@mediaite.com