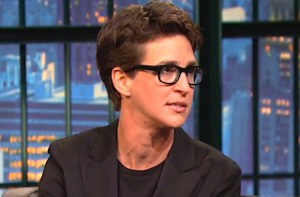 MSNBC's Rachel Maddow has become increasingly frustrated with the way Democratic congressional candidates have run their campaigns ahead of the November midterm elections. When she appeared Thursday on Late Night with Seth Meyers, she admitted that liberals may "deserve" to lose the Senate, as most polling models are forecasting.
As Maddow explained, she believes it's a "weird strategic move" for Democrats to distance themselves from President Barack Obama, especially given the overall success of his Affordable Care Act. Now that Republicans can no longer credibly run against Obamacare, Maddow expressed her disappointment that Democrats have given up on the issue as well.
"If your opponent loses the thing that they've been using as a crutch for six years and you just let them walk away from it like it never existed, maybe you don't deserve to win," Maddow told Seth Meyers. "They just don't have the killer instinct it takes to make their opponents pay for a big mistake and I don't understand why the Democrats are doing that."
Of course, Maddow did not let the current Congress off the hook when it comes to ISIS. She said it takes a lot of "gall" for Congress to complain and spread fear about ISIS while refusing to actually do anything about it. "To be that wussy, and that cowardly, politically, while then still trying to score political points about what you're being a wuss about, is why people feel the way they do about Congress," she said.
Watch video below, via NBC:
[Photo via screengrab]
— —
>> Follow Matt Wilstein (@TheMattWilstein) on Twitter
Have a tip we should know? tips@mediaite.com