Rachel Maddow Mistakenly Said Fox Changed Debate Rules To Limit Candidates (UPDATED)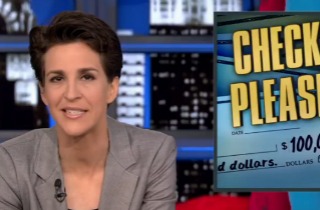 On her Thursday night show, Rachel Maddow slammed Fox News for adding additional criteria to their debate policy on top of the network's policy of limiting the stage to the top 10 candidates in national polling. Maddow wondered whether the move was the network's way of making sure that Donald Trump, the Republican firebrand, would not be able to qualify for the network's upcoming Ohio presidential debate.
Maddow suggested that the network wanted to avoid a "fiasco" by whittling down the field by requiring candidates to provide their financial reporting within a specific time:
"Fox News has made it this way. It's completely unprecedented in American history. We have no idea how it's going to go. But it's the end of the line for at least six candidates. Seven, maybe even more. Some big name candidates, they've got to fight to the political death over the course of three weeks."
Maddow did not mention, however, that the financial disclosure requirement is not a rule from Fox News, but rather, a standard provision of the Federal Election Commission. On top of that, since the FEC made the announcement in May, before Trump announced his candidacy in June, the network's "change" that Maddow addressed was neither a new development, nor a deliberate anti-Trump maneuver.
Trump said on multiple occasions that he has no intention of missing the debate, and that his paperwork will be filed before the July 16 deadline.
You can watch the video here, via MSNBC:
UPDATE–– 9:34 P.M. EST: MSNBC sent Mediaite at statement from Maddow:
I didn't get my facts wrong. Fox News asserts that they haven't changed their criteria, but that doesn't seem to be the case in the real world. Fox's initial announcement about their debate criteria only stated that candidates "Must file all necessary paperwork with the Federal Election Commission". Before this new word from Fox yesterday, though, candidates seem to have been under the impression that filing "all necessary paperwork" could mean filing a request for an extension. With the exception of Marco Rubio and Ben Carson, that's what they all did. Now, with this announced change (er, "clarification") candidates are scrambling to get their financial disclosures submitted earlier than they had expected, because Fox News now says that "all necessary paperwork" isn't really what they meant. Donald Trump says that he will get his financial disclosure in on time: we'll see if he does. If this was an effort to squeeze him out of the Fox debate, it will be fun to see him try to deflect that effort. We are now hearing some worries on the right that Jeb Bush will be the one that will not be able to get his financial disclosure in on time, now that Fox says it has to be in before August 6th. If the Bush campaign knew all along that Fox expected their candidate's financial disclosure form to be filed before the first debate, there would be no question about whether that would happen, and no late scramble to try to make the deadline.
[h/t TVnewser]
[Image via Screengrab]
Have a tip we should know? tips@mediaite.com