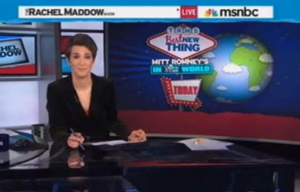 On her show Tuesday night, Rachel Maddow took to her "Best New Thing in the World" segment to mock Mitt and Ann Romney's interview on Live With Kelly and Michael. While his campaign is facing serious trouble, she said, Romney found a way to simultaneously get on TV "with a woman named Kelly Ripa" and not answer any serious questions.
"It was a chance for him to get on television without having to answer questions about what he said at the fundraiser in Boca Raton," Maddow said. "Mr. Romney got his chance to be on TV today, on network TV, but to not have to answer questions about his current major campaign troubles."
But how? "Through the magic of time travel," Maddow quipped, referring to Romney's pre-taped segment for Live With Kelly and Michael. Playing a clip from the show, Maddow informed us, "That is a person named Kelly Ripa, and a person named Michael Strahan, who are co-hosts of a new daytime talk show on ABC."
Alas, the "lurching, horrible" headlines about his campaign were interrupted, she said, with questions like, "Honey Boo Boo or Snooki?" Sarcastically, Maddow went on to thank Snooki and ABC.
While she openly mocked the "sweet relief" the ABC interview provided in the Romney campaign's "darkest hour," Maddow would do well to remember that the Romneys are hardly alone in doing such interviews. President Obama and First Lady Michelle Obama have had their share of fun, light-hearted appearances too, be it on talk shows or late-night television. Obama, you may recall, was recently criticized for his interviews with Entertainment Tonight and People magazine (after not having formally taken questions from the White House press corps in two months).
If the campaign is indeed in its "darkest hour," Maddow has plenty of material to work with — without bringing Ripa and ABC into the fray.
The segment below, via MSNBC:

Have a tip we should know? [email protected]