Rachel Maddow: Newt Gingrich Running Scams Akin To 'A Nigerian Prince E-Mail'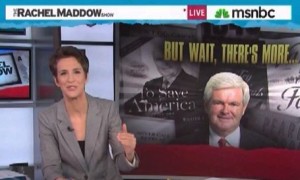 Newt Gingrich is now the Republican frontrunner, and as is the custom with presidential frontrunners nowadays, let the media hazing begin! Rachel Maddow was the latest pundit to examine the Gingrich candidacy on her show tonight, but instead of merely focusing on the same minor scandals as everyone else, went one step further and accused Gingrich of running scams by promoting himself to various groups in order to amass a great deal of money.
Maddow took a few minutes to focus on Gingrich's campaign earlier in the season, and specifically his inability to register the website ExploreNewt2012.com. Whoever owns the site has been redirecting the page to various websites connected to Gingrich, including Tiffany's and (as of this posting) Freddie Mac. Maddow used this opportunity as a springboard to bring up Gingrich's ties to the mortgage firm and how they paid the Republican candidate over $1.6 million. Gingrich tried to explain he was given the money as part of his work as a "housing historian" for the firm.
RELATED: Newt Gingrich Defends His Post-Congressional Lobbying Gig With Freddie Mac
However odd the justification may be, Maddow believes it to be "as legitimate as it gets in Newt Gingrich's world." She went through a whole list of Gingrich's more questionable endeavors, like the letter he sent out to his "2010 Champions of Medicine" and invited them to attend a ceremony with him, all for the paltry sum of $5000. Or, perhaps, the Dallas strip club he bestowed an entrepreneur of the year award to in exchange for a $5000 sum as well. In fairness to Gingrich, he ended up revoking the award the returning the money, but given all these different examples of Gingrich taking money, Maddow could only reach one conclusion.
"This is the ka-ching that makes Newt Gingrich go. He is a Nigerian prince e-mail, send-me-your-bank-details guy. He does e-mail spam, fax spam, direct mail, sucker list, bottom-feeding, prey-on-the-gullible financial scams."
The reason this strategy works for Gingrich, Maddow argued, is that because Newt is selling himself or the opportunity for people to see him or win a signed gavel. And it's not just average people. Gingrich collected millions of dollars from the health care sector in exchange for "special access to the former House speaker." The Chamber of Commerce paid Gingrich as a consultant, and all he had to do to earn the money was "attend dinner or lunch with Chamber officials every few months."
RELATED: Barney Frank: Newt Gingrich Made Millions By Influencing Public Policy
Maddow finally took the media to task for focusing more on Gingrich's policy flip-flops than looking at the whole picture, what she deems the real scandal behind Gingrich's political life.
"Newt Gingrich… is a scam! Newt Gingrich's profession since he got kicked out of Congress under a cloud of ethics charges related to fundraising, his full-time profession has been selling access to himself as someone who is influential because of his time as a public servant. He has been marketing the Speakership of the House for his own private financial gain to anybody who will pay him. Anybody he can scam money out of, even if he has to do it by fax with fake handwriting. For decades he has been doing this, this is why he is now a zillionaire."
Watch the video below, courtesy of MSNBC:
Have a tip we should know? tips@mediaite.com
Josh Feldman - Senior Editor