Rachel Maddow: 'Offensive' For Mitt Romney To Use Battleship As Ryan Backdrop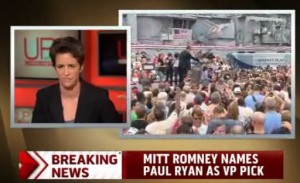 While CNN was busy discussing the optics of the newly formed Romney/Ryan ticket's wardrobe Saturday morning, MSNBC host Rachel Maddow observed another dissonant bit of stagecraft from Republican presidential candidate Mitt Romney's introduction of running mate Rep. Paul Ryan (R-WI). Maddow wondered what the reaction would be if two Democrats who never served in the military "literally ran out of a battleship," and called the move "offensive."
The choice to make the announcement in front of the decommissioned battleship USS Wisconsin, aside from being a dead giveaway to reporters on the eve of the big event, was a curious one, indeed. Maddow, in criticizing the choice, noted that the image was ironic from a policy perspective, "as two fiscal conservatives who want to increase defense spending," but also that the "optics and the double-standard on that issue, just as a social issue, is offensive.
Up with Chris Hayes host Chris Hayes (who, it should be noted, was dressed the same as Paul Ryan) clarified that the USS Wisconsin is a decommissioned battleship, "essentially a museum," to which Maddow added, "(one) that they're using as a stage set to imply that they have military experience that they do not have."
Melissa Harris Perry host Melissa Harris Perry then noted that the battleship could be an attempt to restore some of the hawkishness to Republicans that President Obama has taken over by raining death on America's enemies.
Maddow is absolutely right that the battleship entrance should have been a Dukakis Tank moment on steroids, especially for Mitt Romney, who not only avoided service in Vietnam, but actually protested in favor of drafting other people's kids to fight and die (former Massachusetts Gov. Mike Dukakis did serve his country in the US Army, from 1955-1957).
She's also right that a certain amount of this is attributable to a media double-standard that gives Republicans a pass on stuff like this, but it's also a case of President Obama being a victim of his own success. He's done such a good job on national security, and made the American people feel so safe, that it's not even an issue in this election. There's a decent chance that Romney and Ryan weren't even thinking national security when they chose the USS Wisconsin, but simply saw it as a suitably belligerent symbol of rolling out the "big guns" from Wisconsin, a set of enormous political Truck Nutz, if you will.
The press plays a role there, as well, though. It's their job to make sure the American people connect the dots between feeling so safe that they barely care about national security, and the guy who actually made them that safe. It's also their job to point out that Romney is lying when he says that any president would have greenlit the bin Laden raid, because he very clearly campaigned on not doing that in 2007. To some extent, it's also their job to point out the emptiness of the battleship symbolism at Romney's announcement. Forget about double standards, the mainstream media has failed to even hold Romney to a single standard.
Here's the clip, from MSNBC's Up with Chris Hayes:
(h/t C&L)
Follow Tommy Christopher (@TommyXtopher) on Twitter.
Have a tip we should know? tips@mediaite.com