Rachel Maddow On Ron Paul: It's Hard To Win The Nomination 'Without Having Fox News On Your Side'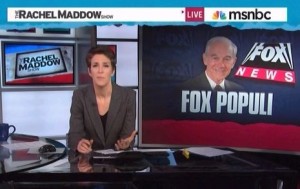 Rachel Maddow has been following the roller coaster ups and downs of the Republican primary campaigns and seen a pattern of bubbles– from Donald Trump to Herman Cain to Newt Gingrich and, now, Rep. Ron Paul. And while Rep. Paul is under siege for his checkered past with newsletters while the establishment cries out for a new candidate, Maddow believes the problem isn't just the establishment, but "Republican Party TV"– Fox News, and their opposition to the frontrunner.
RELATED: Rachel Maddow: Ron Paul Is Different Because He Has Lost The 'Murdoch Primary'
Noting that writers in the Weekly Standard were calling for a new candidate to join the fray as Donald Trump continued to attempt a threat to run for president, Maddow made the point that these were signs of "how much this thing is back to where we were at the start- the conservative establishment is trying to woo new candidates to the race one week before Iowa." The unfortunate thing for the establishment, however, is timing. It is very unlikely that there will be new candidates, which leaves the "Republican Party establishment being very dissatisfied with all the Republican candidates," Maddow explained, while Fox News is left "falling ostentatiously in and out of love with each successive bubble candidacy."
Maddow argued that part of the reason the Gingrich boom appeared so short-lived was the slight opposition on Fox News. For Rep. Paul, it was a magnified version of the same on the front. "They really seem to hate the current Iowa frontrunner," Maddow argued, adding that "if he can't win the Fox News channel, it is hard to believe that a Republican candidate can win anything approaching the nomination." And that explains why many don't take Rep. Paul's campaign seriously– "no one believes it will translate into any real electoral consequence."
RELATED: Rachel Maddow On Ron Paul: 'Iowa Republicans Don't Pick Presidents; They Pick Huckabees'
Who is left is a question Maddow noted left her looking a bit… wrong, in retrospect. The one candidate who doesn't have what Maddow deemed a "Fox News problem" and a huge operation in Iowa is also one that, Maddow proved with a tape montage, she underestimated the most: Rick Santorum, who by process of elimination appears to have a real chance.
The segment via MSNBC below:

Have a tip we should know? tips@mediaite.com